Estee Lauder Shares Climb to Record After Outlook Raised Again
(Bloomberg) -- Estee Lauder Cos. raised its full-year guidance for the second time this year after it exceeded expectations in the latest quarter on the back of booming sales in Asia. Shares rose to a record high.
The cosmetics company now sees full-year adjusted earnings per share of $5.15 to $5.19 after profit and sales beat estimates in the third quarter. It had already boosted its outlook for that metric in February.
Skincare sales are flourishing in Asia, and Estee Lauder's high-end beauty labels such as La Mer are performing well despite wider worries of a luxury slowdown in China. While the company had "anticipated a gradual moderation of growth in China and travel retail starting in the quarter," that fortunately didn't happen, Chief Executive Officer Fabrizio Freda said.
Estee Lauder has been working to connect with younger shoppers in the U.S. by acquiring up-and-coming beauty brands and investing more in e-commerce. In recent years, the cosmetics giant has acquired numerous trendy brands, including Glamglow, Becca and Too Faced. Still, sales in the Americas slipped 2 percent in the quarter, even as Asia and Europe logged double-digit growth.
Demand for artisanal fragrances has accelerated as shoppers flock to the company's upscale products, including Tom Ford's Black Orchid scent. Estee Lauder recently bought three brands in what it calls the "ultra-prestige" fragrance category: Le Labo, Frederic Malle and By Kilian. Those brands drove the fragrance sector's growth in the quarter, even as certain designer scents lost luster.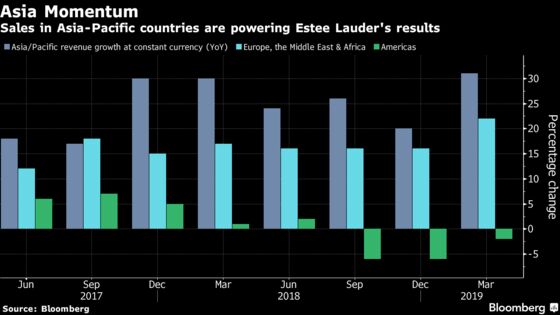 Estee Lauder shares rose as much as 4.9 percent in New York to $180.20, the highest intraday level since it went public in 1995. The stock had gained 32 percent this year through Tuesday's close, outpacing the S&P 500.
Get more on the numbers here.