Eric Adams Sweeps In With Busy Checklist for NYC Craving Change
(Bloomberg) -- Mayor-elect Eric Adams will immediately have to grapple with New York City's Covid response, widespread inequality and safety issues that have kept many workers from returning to offices and public transit. 
The 61-year-old Brooklyn borough president will have to find a way to turn his campaign rhetoric, which often lacked details and seemed tailored to please all, into governing reality. He'll be expected to deliver concrete plans on addressing the city's 9.8% unemployment rate, navigating through the pandemic and delivering on a $98.7 billion budget as federal aid dries up and dozens of police and other union contracts come up for renewal. 
"I'm perfectly imperfect, and the city is made up of perfectly imperfect people," Adams said at an Election Night party at the Marriott hotel in Downtown Brooklyn. "That's the combination that will allow us to create a perfect city where no one is left behind."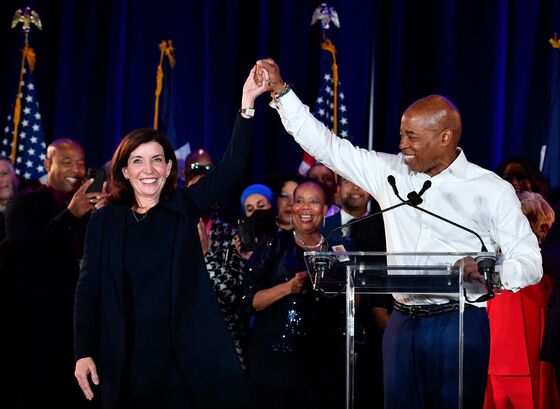 In an early show of how he plans to run the city differently from his predecessor Mayor Bill de Blasio, who famously clashed with former Governor Andrew Cuomo, Adams brought Governor Kathy Hochul on stage during his victory speech Tuesday and pledged to work alongside her. Hochul said his win augured a "new era of cooperation." He also appealed to supporters to embrace the city's CEOs, saying it's "time to build bridges we've destroyed in the past. We need each other."
Adams defeated Republican nominee Curtis Sliwa Tuesday in a landslide election to become the city's second Black mayor. Due to the city's overwhelming Democratic majority, he's been the de facto mayor-in-waiting since winning a hotly contested Democratic primary in July. 
The win gave the moderate Democrat a national megaphone. He cast himself as "the face of the new Democratic party," focusing on fighting crime and creating a business-friendly city even as his party has increasingly embraced more progressive policies.
Those progressives will be as close as the second floor of City Hall, where a younger, more diverse -- and more liberal -- City Council will be sworn in with Adams in January.
Until then, Adams will begin the process of overhauling an administration he often disagreed with as Brooklyn borough president. In the coming weeks, he is expected to name new leadership at the New York Police Department, a new health commissioner and a new schools chancellor -- a sign that crime, Covid and education are among his first priorities. 
Public safety was a campaign cornerstone for the 22-year NYPD veteran, who rose to the rank of captain even as he pushed to reform the department from within.
The city's violent crime rate has subsided from its early pandemic spike and is historically low compared to decades past. Still, the perception of danger persists with high-profile shootings in Times Square and on subway platforms.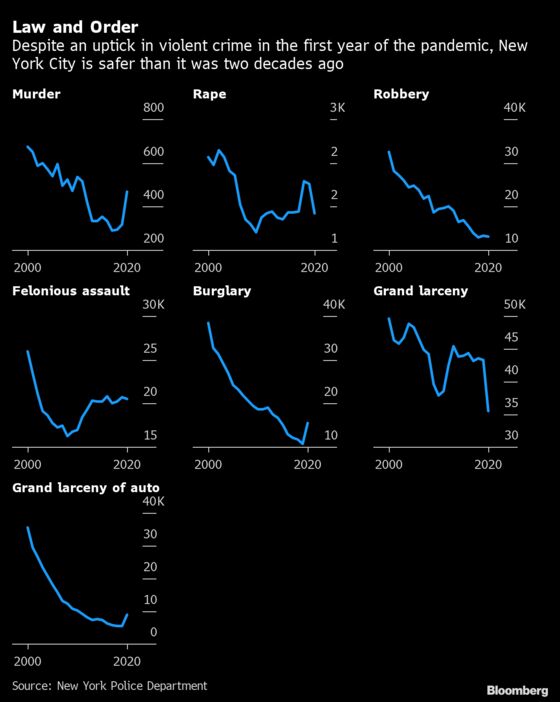 Adams also shifted his tone during the campaign, seeking to distance himself from some of his comments made during the primary around controversial stop-and-frisk policies. 

"I never called for aggressive police tactics. I called for appropriate tactics," he said during an October debate with Sliwa. But Adams has been less forthright with specifics, suggesting his management prowess and knowledge of the department's operations would guide those decisions. He also proposed the revival of an anti-gun task force that was disbanded after a documented history of abuse. 
As mayor, Adams said he would cut the department's overtime spending in half in his first year. It'll be a tough lift. The city set $485.6 million aside for overtime in this fiscal year and it is likely to exceed that figure. It spent $837 million on extra hours for police in fiscal 2020, pushing the department far beyond its allotted budget, yet murders, burglaries and auto thefts spiked.
New York City's 9.8% unemployment rate in September was more than double the U.S. rate, and Adams has pledged to create 70,000 jobs in his first year. He's proposed a more business-friendly environment that would include a city-run job-search clearinghouse to match pandemic-displaced workers.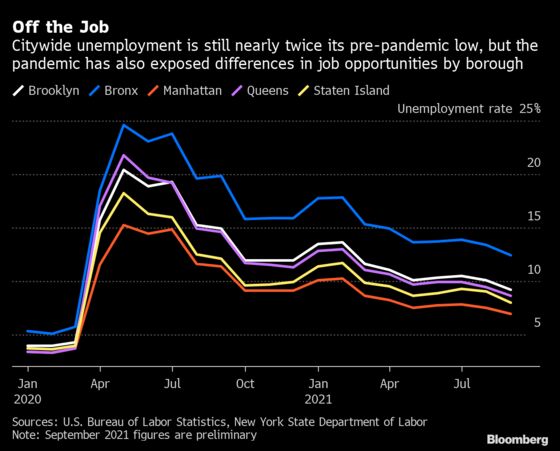 The pandemic also accelerated the exodus of finance industry jobs from Manhattan to Sun Belt states and work-from-home arrangements around the country. Goldman Sachs moved 100 jobs to Palm Beach, Florida, this year, and Ark Investment Management LLC's Cathie Wood says she's moving her fund to St. Petersburg. 

Adams spent the months after his primary win rubbing shoulders with celebrities and business leaders in the Hamptons and Martha's Vineyard and will now have to balance his role as a Wall Street booster with the need to address income inequality.
Property taxes fund about half the city budget. But a Bloomberg News investigation found that the city's property tax system is flawed in a way that benefits the rich, skewing the burden to middle- and lower-income homeowners and renters. 

In response to that article, Adams said he supports reform and will put together a task force in his first year. 
Adams can't raise property taxes without approval of the City Council -- and he has even less control over other taxes. So he will have to navigate relationships with a far more progressive City Council and Albany legislature if he wants to make any headway.
The Covid-19 vaccine mandates implemented by current mayor Bill de Blasio are expected to continue under Adams, who said he also supports mandating shots for kids. Pfizer Inc. vaccines for children aged 5 to 11 won regulatory approval Tuesday.
About 92% of city employees had gotten at least one vaccine dose by Monday, but only 81% of firefighters, 85% of the NYPD and 83% of sanitation workers had complied, leading to trash piling up on city streets and worker "sick-outs."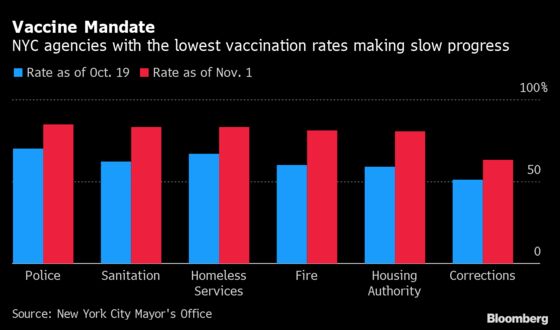 The city's sprawling subway system and the Metropolitan Transportation Authority are another place where the mayor's power is limited.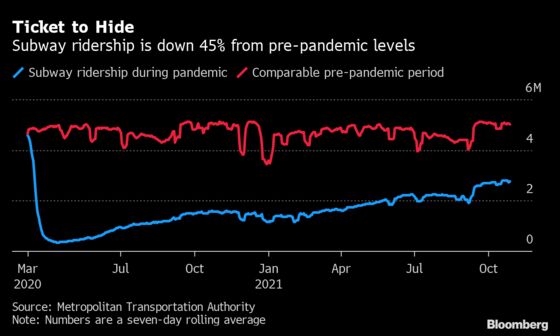 Subway ridership hovers around 3 million riders on weekdays, still down more than 40% from pre-pandemic levels. Restoring commuter confidence in the system will be key for the city's recovery. Adams has pointed to public safety as a way to do just that. He's also expressed support for congestion pricing -- which would increase tolls to drive into the most-trafficked parts of the city -- but hasn't outlined how he will forge a deal with the governors of New York and New Jersey. 

"Congestion pricing is crucial for our city, not only to deal with the environmental crisis that we are facing, but also how do we put more money into our subway system and our bus system?" he said.
Adams will likely need to find new funding sources to help the city balance its budget once federal Covid relief aid stops flowing. 

Over the next two years, the city's roughly 100 labor contracts are set to expire, according to Ana Champeny, director of city studies for the Citizens Budget Commission. The contract for District Council 37, with 150,000 municipal workers, expired in May. DC 37 has been one of Adams's staunchest supporters and negotiations will help set the tone for the rest of the contracts. The United Federation of Teachers contract is set to run out in September 2022. 

Adams will have to renegotiate these contracts and any potential raises, while also dealing with a budget that ballooned under de Blasio. He has already promised to implement the Program to Eliminate the Gap, or PEG, a cost-cutting measure that would require city departments to cut non-personnel spending. Adams said he would ask every agency to enact cuts of 3% to 5%, excluding layoffs.
One of de Blasio's final acts as mayor was to eliminate the city's gifted and talented program, a key contributor to segregation in the school system. Instead of testing four-year-olds for admission into the program, de Blasio proposed expanding the accelerated learning program and having mixed-level classrooms.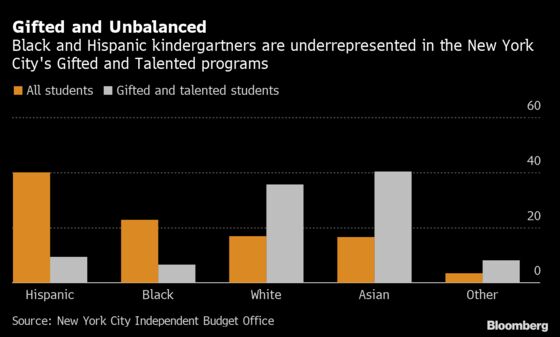 Adams has pledged to reverse that decision, though he also said he agrees with many of de Blasio's reforms. 
"I don't believe a four-year-old taking an exam should determine the rest of their school experience," he said at a debate. "That is unacceptable."