Erdogan Threatens New Attack on U.S.-Backed Kurds in Syria
(Bloomberg) -- Turkey threatened to expand a military assault on U.S.-backed Kurdish forces in northeast Syria, risking a faceoff with American troops stationed there as frictions with Damascus grew over a brittle agreement.
President Recep Tayyip Erdogan said Turkey would not let Islamic State "resurrect" itself in Syria, unmoved by the Pentagon's warning that a Turkish military drive against the Kurds could hamper the U.S.-led fight against the jihadists. Turkey considers the Kurdish YPG militia a terrorist affiliate of separatists it's battled at home for decades, and wants it to retreat from areas close to the Turkish border east of the Euphrates River and the town of Manbij on the western bank.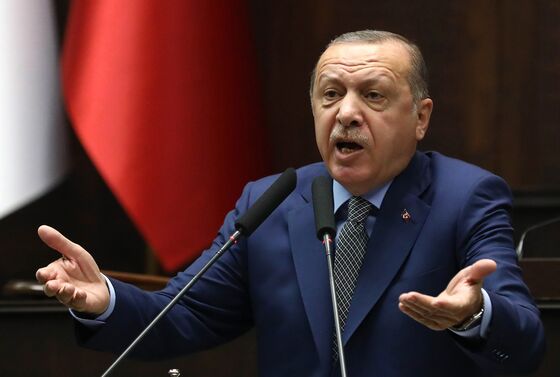 As a possible precursor of a wider operation, the Turkish army shelled YPG positions west of the Kurdish stronghold of Kobani, also known as Ayn al-Arab, on Sunday. "We're not going to stop there," Erdogan said. "We will crush the terrorist network."
U.S. support for the YPG has been one of many points of contention straining Ankara's ties with Washington in recent years. The Pentagon backed the militia as the most competent bulwark against Islamic State fighters in Syria, but Erdogan fears their territorial gains will embolden the aspirations of some Kurds to form an independent state that would also incorporate Kurdish areas in southeast Turkey.