Erdogan Signals Detente With Trump on Syria After Tweet Threat
(Bloomberg) -- Turkey's top priority in Syria is to fight remnants of Islamic State after the U.S. pullout, President Recep Tayyip Erdogan said, signaling that strains over a threatening tweet by Donald Trump have ebbed.
"We've told Trump that our priority in Syria is to fight" Islamic State, Erdogan told lawmakers from his ruling AK Party in parliament on Tuesday, a day after the two leaders spoke by phone to try to ease tensions.
"Messages from Trump's social media accounts have saddened me and my friends," Erdogan said, referring to Trump's Twitter post threatening to "devastate" Turkey's economy should Erdogan go after American-backed Kurdish militants in Syria. Turkey and U.S. have agreed to prevent policy differences from overshadowing their collaboration in Syria, he said, citing the leaders' phone conversation.
After U.S. sanctions last year sent the Turkish lira into a tail spin, Erdogan appears willing for now to put aside differences over the Kurdish YPG for the sake of his grand regional strategy. Turkey sees establishing a larger sphere of influence in Syria in the wake of the U.S. withdrawal as critical to achieving its long-term objective of preventing an independent Kurdish enclave from materializing just across the frontier.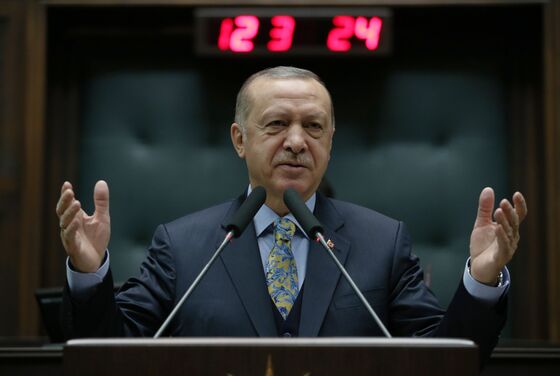 Turkish forces have been massing on the Syrian border since Trump announced last month that he'd pull out troops from Syria soon, though mixed messages from Washington have muddled the timeline for a pullback. The Turkish campaign will have a two-pronged aim: to wipe out remnants of Islamic State in Syria and to push Kurdish forces it regards as a mortal foe away from Turkey's border.
The U.S. and Turkey have been allies for more than six decades, but Washington's support for the Syrian Kurdish YPG militia has been one of many strains on their relations. The U.S. outsourced much of the fighting against Islamic State in Syria to the YPG, angering Ankara, which views the force as an extension of the separatist Kurdish PKK armed group that both Turkey and the U.S. consider a terrorist organization.