Epstein Estate Executors Accused of Enabling Trafficking Scheme
(Bloomberg) -- Jeffrey Epstein's estate executors, who were his right-hand men, were added as defendants in a racketeering lawsuit brought by the U.S. Virgin Islands, which claims they acted as "captains" of the late financier's alleged scheme to traffic in girls.
U.S. Virgin Islands Attorney General Denise George said her office had "newly-obtained evidence" showing that Darren Indyke and Richard Kahn had "direct participation" in almost all of Epstein's business operations and financial activities -- including the alleged sex-trafficking network -- and that they facilitated forced marriages among his victims to ensure their immigration status.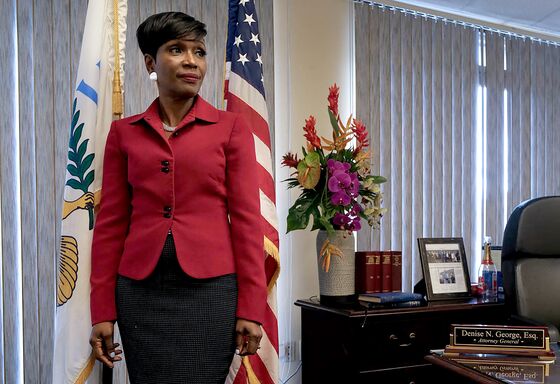 "Darren Indyke and Richard Kahn categorically reject the allegations of misconduct made for the first time today by the Attorney General of the Virgin Islands regarding their purported roles in the so-called 'Epstein Enterprise,'" Daniel Weiner, a lawyer for the co-executors, said in a statement. "The facts are clear: neither Mr. Indyke nor Mr. Kahn had any involvement in any misconduct by Mr. Epstein of any kind, at any time."
George and the estate are locked in a battle over funding for a victims' compensation program which has paid out more than $57 million to at least 150 claimants. Fund administrator Jordana Feldman said last week. But the administrator said there's not enough cash in the estate to meet her latest request to replenish the fund. George has asked a probate judge to freeze the estate's assets.
George sued the estate last year alleging violation of the territory's Criminally Influenced and Corrupt Organizations Act and seeking civil penalties, damages, forfeiture of Epstein's private islands in the territory and restitution for local women who accused him of abuse.
Epstein was arrested and charged by federal prosecutors in Manhattan in July 2019, accused of sex-trafficking of girls. He was found dead in his federal jail cell a month later while awaiting trial, in what authorities ruled a suicide.
George's amended complaint filed Monday details how the two executors allegedly played crucial roles in upholding Epstein's vast and complex trafficking scheme and concealing his business dealings from banks and federal authorities. Epstein and his businesses had more than 140 bank accounts, from which the two men allegedly funneled millions of dollars to pay for apartments, visas, tuition and "massages", which was code for sex, according to the lawsuit.
The two men moved money around Epstein's empire to avoid triggering reporting requirements or raise flags at banks, George said. She also detailed how Indyke supplied Epstein with cash to pay his victims by repeatedly making small withdrawals. Over an eight-month period starting in mid-2018, there were 97 separate withdrawals of $1,000 each from an account controlled by Indyke made at an ATM "a short walk" from his law office, according to the complaint.
Epstein's Southern Trust Co., a consulting firm, is cited in the complaint as the main source of funds for his alleged trafficking scheme. Indyke and Kahn allegedly controlled the day-to-day activities of Southern Trust.
"Bank records show that virtually all of Southern Trust Co.'s income came from a single source," George said in the complaint. The source, which isn't identified in the complaint, paid $158 million to Southern Trust from 2013 to 2017, or 85% of its revenue in that time. according to the complaint.
The sum matches the figure Apollo Global Management Inc.'s co-founder Leon Black paid to Epstein over that period for advice on tax and estate planning, which was detailed in a report from law firm Dechert LLP. The firm investigated Black's ties to Epstein on behalf of the private equity giant's board.
Indyke and Kahn helped facilitate Epstein's sexual assaults of women, George said, claiming that on at least three separate occasions, the two men coerced American victims to marry women from abroad, ensuring that they could legally stay in the U.S. The women were threatened with physical violence if they attempted to divorce, according to the complaint.
Following a criminal conviction in 2008, Epstein increasingly began seeking out victims from Eastern Europe, George claims. According to one victim cited in the complaint, many young women and girls who were shipped to Epstein's lair in the Caribbean didn't speak English. Epstein preferred it that way "since they spoke less," George said in the complaint.
In a filing in a U.S. Virgin Islands probate court earlier Wednesday, Indyke and Kahn said George's request to have an emergency freeze placed on the Epstein estate should be rejected, arguing it will "wreak enormous havoc" by thwarting their ability to sell assets to help victims.
They said because of George's racketeering suit, they already provide her with "itemized spreadsheets and underlying spreadsheets" detailing all estate expenses. George and other officials "reviewed and approved the very expenses it now challenges," they said.
George disputed the claim.
"It is the estate's duty to conserve and manage its assets responsibly, which it obviously has not done," George said in an emailed statement. "The government has never approved the appropriateness or reasonableness of any expense."