Epstein Estate Paid $50 Million to Victims of Alleged Assaults
(Bloomberg) -- Jeffrey Epstein's estate in the U.S. Virgin Islands has paid almost $50 million to settle claims by women who accused the disgraced financier of sexual assault, according to a report that showed the estate's value plunged by nearly 50% in the latest quarter.
The estate's most recent quarterly report, filed Monday and covering assets and expenditures through the end of the year, indicates that the Victims Compensation Fund paid out $49.8 million, without giving the number of recipients.
The estate set up the fund last year in a deal with the territory's attorney general that also put in place measures to protect the women, who say Epstein abused them as girls. Epstein, who was arrested and charged with sex trafficking in July 2019, was found dead in a federal lockup in Manhattan the next month, in what authorities ruled a suicide.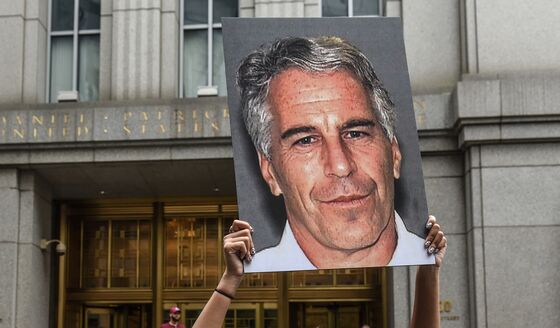 At least 20 lawsuits brought by Epstein accusers have been dismissed, according to the report, an indication that numerous women have now reached settlements with the estate. The accounting was first reported by the Miami Herald.
Epstein was a resident of the Virgin Islands for more than 20 years and owned two islands in the territory -- Little St. James and Great St. James -- which the government said it is seeking to claim.
U.S. Virgin Islands Attorney General Denise George had rejected an earlier proposal for the fund as inadequate. Under the terms she agreed to, the women don't have to sign broad releases and aren't required to disclose any information publicly. Epstein's estate is barred from using the fund to defend itself from claims, and a victim's advocate is in place to ensure that decisions by the fund's administrators meet the women's needs.
The new report, filed in the Virgin Islands, shows that Epstein's estate was valued at about $630 million in June, when the fund was created. As of Sept. 30, it had total assets of approximately $446 million and, by Dec. 31, about $241 million.
The report, the fifth issued by the estate, indicates that it paid out more than $5 million in fees to law firms during the quarter, including Hughes Hubbard & Reed LLP, Troutman Pepper Hamilton Sanders LLP and Morvillo Abramowitz Grand Iason & Anelo PC. Kellerhals Ferguson Kroblin PLLC, a Virgin Islands-based firm that handled Epstein's will, collected more than $486,000 in legal fees, according to the report.
A close associate and former girlfriend of Epstein, British socialite Ghislaine Maxwell, was arrested last July on sex-trafficking charges for allegedly conspiring with Epstein to provide him with girls to attack and participating in some of the alleged assaults herself.
Maxwell has pleaded not guilty and is being held in a federal jail in Brooklyn, New York, awaiting a trial tentatively set to begin in July. The Virgin Islands has said it is investigating her too. Maxwell has filed suit in the territory seeking reimbursement for legal fees, claiming Epstein had repeatedly promised to support her.