EPA Pick Regan Vows Collaboration as GOP Warns of Lost Jobs
(Bloomberg) -- President Joe Biden's nominee to run the EPA vowed to collaborate with local governments, businesses and working Americans to confront major environmental threats if confirmed by the U.S. Senate.
"We can't simply regulate our way out of every problem we face," Michael Regan told the Senate Environment and Public Works Committee on Wednesday. Instead, Regan said, the best way to tackle complex challenges is "by convening stakeholders where they live, where they work and where they serve," and "fostering an open dialogue rooted in respect for science, a clear understanding of the law and a commitment to building consensus with pragmatic solutions."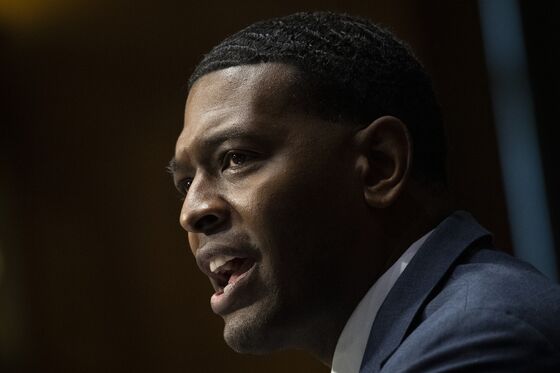 If confirmed as administrator of the Environmental Protection Agency, Regan would be at the forefront of Biden's plans to confront climate change and promote environmental equity, including by writing tougher limits on greenhouse gas emissions from power plants, automobiles and oil wells. Republicans were set to grill Regan about those regulatory ambitions -- and the potential threat to U.S. jobs -- during his confirmation hearing Wednesday.
Regan set to head off some complaints in his opening remarks, by promising to drive consensus based on shared values in protecting environmental health and economic strength. Preserving natural resources won't come at the expense of economic growth but will actually drive it, he said.
"We are moving beyond the old argument that we have to pit creating jobs against protecting the environment," Regan said.
Environmental regulators who served under former President Donald Trump offered similar assurances as they moved to ease rules governing air and water pollution they said hindered businesses and ran afoul of federal law. Many of those mandates are now set for a rewrite under Biden, who has cast the fight against climate change as an economic opportunity.
If confirmed, Regan would draw on a four-year tenure as North Carolina's chief environmental regulator that put him in the middle of fights over the construction of new natural gas pipelines and the cleanup of chemicals, including coal ash, a toxic byproduct of burning coal to generate electricity.
Under Regan, the North Carolina Department of Environmental Quality blocked a certification critical to constructing an extension of the Mountain Valley Pipeline but approved a similar authorization for the now-abandoned Atlantic Coast pipeline.
Regan also negotiated a settlement with Duke Energy Corp. over its coal ash cleanup efforts that won praise from environmentalists and separately ordered Chemours Co. to take steps to prevent contamination of the so-called forever chemicals per- and polyfluoroalkyl substances.
"Michael distinguished himself as somebody who listens and tried to take in the input from both sides and come up with a fair outcome," said Senator Thom Tillis, a Republican from North Carolina. Regan's "track record of listening and trying to come up with a sustainable outcome" means he is "somebody we can rely on to be fair."
Regan, who would be the first Black man to lead the EPA if confirmed, said his priorities would include restoring a commitment to science and transparency at the agency and supporting its career officials. Regan used to be one; he served at the agency for nearly a decade under former Presidents Bill Clinton and George W. Bush at the start of his career.