EOH's Van Coller to Use Cash Injection for Deals, Debt Pay-Down
(Bloomberg) -- Stephen Van Coller, EOH Holdings Ltd.'s new chief executive officer, said he will use a 1 billion-rand ($70 million) cash injection from a stake sale to black investors in South Africa to pay for acquisitions and decrease the group's bank debt.
EOH, a Johannesburg-based technology firm, said earlier this year it would split into two units and work to improve its corporate governance amid a slump in its share price. Founder Asher Bohbot returned as chairman when Sandile Zungu resigned after more than four years in the position. Van Coller, a former vice president of MTN Group Ltd. and before that head of Absa Group Ltd.'s investment-banking unit, was named CEO in July and tasked with EOH's turnaround.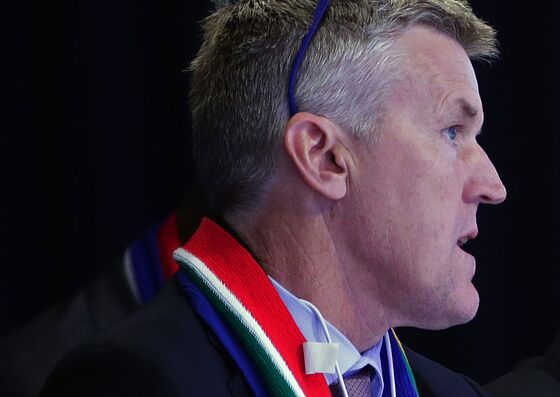 "The cash will be used to pay for outstanding acquisitions, which is about 500 million rand over the next 12 months, and bank debt that needs to be serviced," Van Coller said by phone from Johannesburg on Wednesday. "There is still some balance sheet clean up that needs to be done, we need to centralize cash flow for instance."
During the year, EOH bought LSD Information Technology (Pty) Ltd. and other smaller businesses for 511 million rand. EOH earlier on Wednesday reported a full-year loss of 101 million rand and said it wouldn't pay a dividend. The group's unit focused on government contracts was dissolved by incorporating the majority of its activities into EOH's two separate businesses with the remainder of that unit being discontinued. EOH also bought back a business unit.
"Those two impairments costs us about 800 million rand, as we also had to pay out cash for some retrenchments that came with closing the public-sector business," said Van Coller. Such large impairments are not expected to happen again, he said.
EOH said in July it would split the company into two independent units, with its information, communications and technology business operating under EOH and the new NEXTEC brand focusing on industries such as technology for renewable energy, health and water sanitation. The restructuring of the ICT business will be done by the end of the financial year, while NEXTEC will may take as many as 24 months to put the right operating model in place, according to Van Coller.
John King, who was the financial director of EOH for more than 10 years, resigned with immediate effect on Wednesday, according to a separate statement. EOH doesn't have a specific person lined up for the job yet, Van Coller said.
EOH rose 0.7 percent to 35.74 rand as of 1:08 p.m. in Johannesburg. The stock has declined 47 percent this year.