England's Most Pro-Brexit Region Earns 40% Less Than the Least
(Bloomberg) -- When Theresa May became U.K. prime minister in the aftermath of the Brexit referendum, she vowed to help people who were "just about managing."
A backlash among those struggling to get by after years of austerity was seen as a major force behind the 2016 vote to leave European Union. The exact reasons have occupied political analysts ever since but figures Thursday appear to reinforce the link between levels of material well-being and attitudes toward the EU.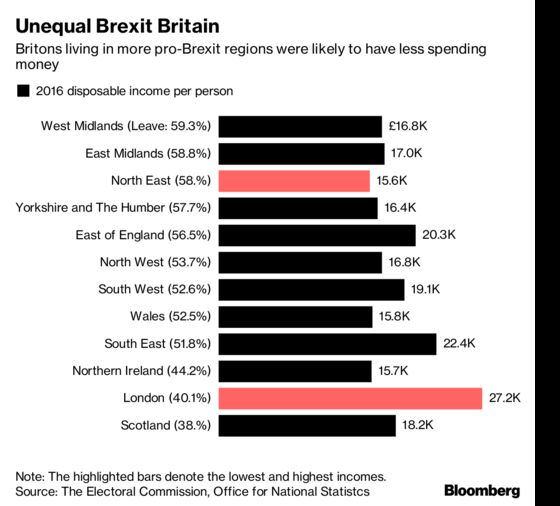 In England, support for quitting the EU was weakest in London, where, according to the Office for National Statistics, gross disposable income per head was the highest in the U.K. at more than 27,000 pounds ($36,000) a year.
By contrast, in the northeast and the English midlands, where almost 60 percent of voters backed Brexit, the average after-tax income was little more than 16,000 pounds.