Bond Tax Nears End in Colombia in Quest to Entice Foreigners
(Bloomberg) -- Colombia is trying to make its bond market more enticing for foreigners as it seeks to fund a fiscal deficit swollen by the pandemic, a top Finance Ministry official said.
The tax bill sent to congress last week proposes eliminating the 5% tax levied on foreign holders of local peso bonds. This will help the government attract investors to the local debt market, Deputy Finance Minister Juan Pablo Zarate said.
Colombia, like many other countries, faces "very large debt levels," Zarate said in a phone interview Tuesday. "We need to create attractive conditions for all kinds of financing."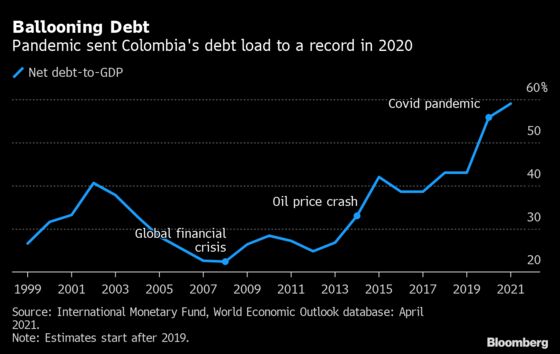 The withholding tax is one of the few levies the Finance Ministry wants to cut, as it raises taxes on salaries, dividends, public services and net wealth. The bill is mainly intended to raise money to tackle the ballooning debt and mass poverty caused by months of lockdowns.
Read More: Colombia Sells $3 Billion of Bonds, Adding to Covid Debt Binge
The country began phasing out the withholding tax almost a decade ago, when it was 33%. Foreigners now own about a quarter of the nation's domestic debt, up from around 4% before the tax cuts.
With its credit rating now just one notch above junk, the government needs to demonstrate a credible plan to put its finances on a sustainable path. Two agencies rate Colombia at BBB-, the lowest level of investment grade, with a negative outlook.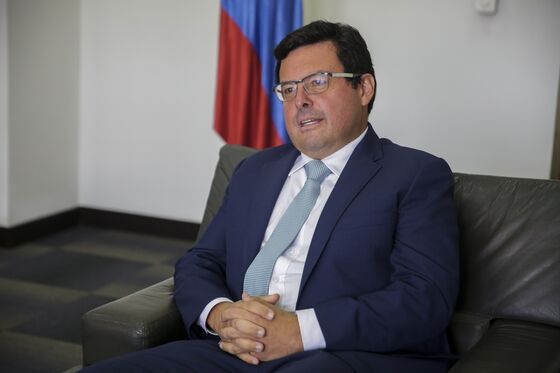 "It will be very difficult for the economy to grow in the coming years" if local and foreign investors begin to doubt the nation's ability to pay its debt, Zarate said.
The bill is intended to raise the equivalent of about 2% of gross domestic product per year on average through 2031, but lawmakers are likely to water down the government's proposals. At a minimum, it needs to raise 1.4% to 1.5% of GDP, Zarate said.
Still, the tax proposal faces an uphill battle in congress, where the government of President Ivan Duque needs support from political forces at a time when many lawmakers are already focusing on next year's presidential elections.
Radical Change, the second-largest party in Colombia's senate, said it won't back the bill, arguing it goes against the country's economic recovery, according to a statement posted on Twitter. Leaders from La U party also said they wouldn't back a reform that raises levies on the middle class.
The government estimates Colombia's fiscal deficit will widen to 9.2% of gross domestic product this year, up from 2.5% in 2019, before the pandemic.
"We are in a complex fiscal problem, with risks to macroeconomic stability," said Zarate. "The reform looks in general to generate macroeconomic stability which is the most important thing for everything, for growth, for consumption and investment."