End Entrepreneur Tax Break to Fund Health Service, U.K. Urged
(Bloomberg) -- Prime Minister Theresa May could help meet her 20 billion-pound ($26 billion) funding pledge for the National Health Service by scrapping what's being branded as the worst tax break in Britain.
Entrepreneurs' Relief, which cost an estimated 2.7 billion pounds in foregone revenue in the last fiscal year, is "expensive, ineffective and regressive," the Resolution Foundation think tank said in an analysis published Wednesday.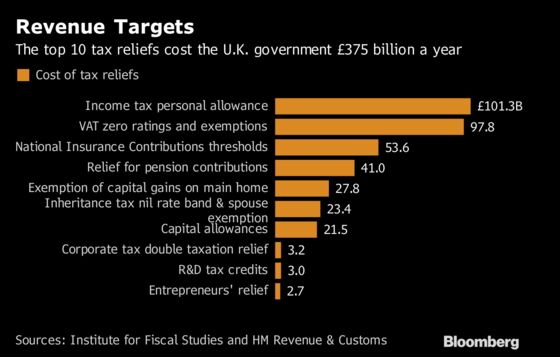 The tax break was introduced by the Labour government in 2008 and extended by the Conservatives to encourage risk taking in the aftermath of the financial crisis. It means people selling companies now pay 10 percent on capital gains up to 10 million pounds rather than the full rate of 20 percent.
Resolution said the beneficiaries are a small number of wealthy individuals, almost all of them male with a typical age of 57. And there is no evidence it has increased genuine entrepreneurship, with the number of self-employed people who hire others failing to grow over the past eight years.
Senior Economic Analyst Adam Corlett said poor tax breaks too often go unexamined when decisions are being made on ways to raise revenue. That process is currently under way after the government promised a real-terms boost for the NHS of around 3.4 percent annually over the next five years.