Encana's Pursuit of Newfield Prompts Wall Street Inquest
Even though Newfield Exploration Co.'s Oklahoma (Stack/Scoop) assets don't overlap with Encana, analysts are taking the long view as Encana moves away from Canadian infrastructure concerns. Meanwhile, to soften the blow, Encana plans to raise its dividend by 25 percent and expand a share buyback program to $1.5 billion after the deal closes.
Encana's New York-listed shares are down as much as 17.5 percent in early trading, while Newfield is gaining more than 14 percent. Newfield's Oklahoma assets have challenged the company, with its shares down 35 percent this year through Wednesday's close, while Encana has battled investor concerns surrounding Canada's weak natural gas market.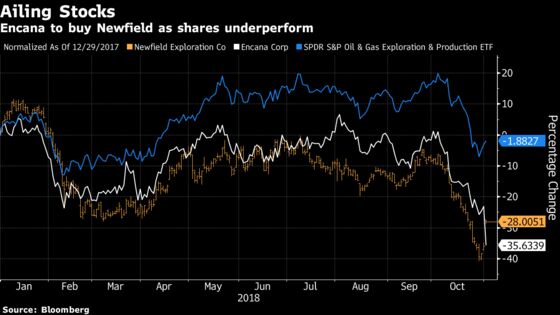 Canaccord, Dennis Fong
"We view this acquisition as being positive in the longer-term even after considering the share issuance given the cash flow accretion, improved balance sheet metrics and the addition of ~360,000 net acres of SCOOP/STACK exposure (over 6,000 gross risked locations)."
Maintains ECA at buy, price target $19
Encana investors "may question the justification and timing of the transaction, as ECA and NFX do not have overlapping operations in any areas, and with the ramp in Montney liquids, ECA was soon to hit an inflection point in FCF generation."
Maintains ECA at buy, price target $17
"Well, we knew management was on the hunt for another core North America oil play, but we weren't expecting a STACK deal."
"While we view this as the absolutely right move for NFX, its struggles in the STACK to drive higher oil production growth will now become ECA's burden to bear. But the hope is that ECA's cube development approach perfected in the Permian and Montney will drive better performance and more efficient development of this play."
The deal also removes the "gassy name" label from Encana.
Would be buyers on any sharp drop in Encana's shares.
Maintains ECA at buy, price target $16
CIBC, Jon Morrison

The deal "reiterates why we didn't have an Outperformer on the stock."
"We also find the decision to announce an all-stock acquisition concurrent with an increased share buyback as perplexing to say the least."
Downgrades ECA to underperformer from neutral, trims price target to $13 from $15.
Tudor Pickering, Jeoffrey Lambujon
News on the deal and shareholder return initiatives "removes overhang and questions on uses of FCF" for Encana.
Expects Encana's shares "to reflect buyer performance seen with recent M&A." Adds there's an "argument to be made that top-tier operatorship positions them as consolidators," along with the notion that "return of capital initiatives should resonate well"
Maintains Encana at hold, price target $17
Johnson Rice, Ronald Mills
"NFX's recent move to cube development and row drilling in the STACK/ SCOOP fits nicely within ECA's ongoing cube development in both the Permian and Montney, while on a pro-forma basis increasing ECA's liquids exposure to 52% (up from 42%)."
Combines companies' balance sheet to allow for increased return of capital to holders.
Maintains NFX at buy, price target $49.50
Williams Capital, Gabriele Sorbara
Deal gives Encana a "premier position" in the Anadarko Basin, and "more importantly, the transaction is accretive on key metrics and ECA intends to raise its dividend by 25% and expand its share buyback program to $1.5 billion following closing of the transaction"
Maintains NFX at buy, price target $44
Deal is "obviously a positive for NFX, and we think NFX has many frustrated shareholders that will be relieved by the deal given a consistent discrepancy between solid operational execution and equity underperformance."
RBC "would have expected some sort of cash consideration, the deal is meaningfully below our NAV at strip, and we would also note that NFX was trading above the deal price as recently as early October (although ECA was obviously higher then as well)."
Maintains NFX at outperform, PT $38
Bloomberg Intelligence, Mark Rossano

Deal diversifies Encana into the Stack/Scoop play with fewer pipeline constraints. Newfield offers a "hedged portfolio, a favorable product mix and strong growth visibility and cash flow generation."
Adds that the "lack of a cash component in the all-stock deal may give investors some pause, but a planned dividend boost and share buyback at Encana after the deal closes will help get the $5.5 billion deal done."