Emirates Aims to Stay Put for a Decade as New Dubai Hub Falters
(Bloomberg) -- Emirates, the world's biggest long-haul airline, aims to stay at its Dubai International Airport base for another decade as the sheikdom reviews the future of a partly built super-hub costing $36 billion.
Dubai International, which attracted 90 million passengers last year, could conceivably eke out annual capacity of as many as 115 million travelers, Emirates President Tim Clark said at a briefing in London Wednesday. Transferring other airlines to the newer Al Maktoum airport would give Emirates and sister carrier FlyDubai room to expand at their existing home, he said.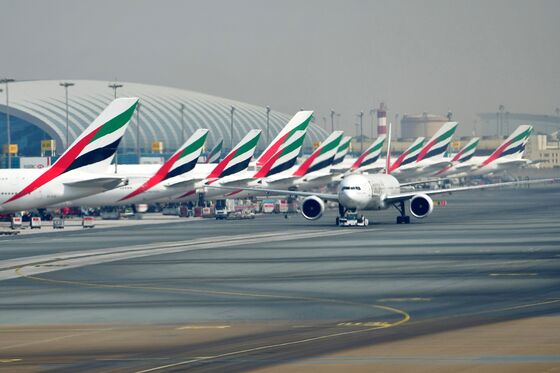 Both Dubai International and Al Maktoum, which can now handle 25 million to 30 million people a year, are state-owned. So are Emirates and FlyDubai, which gives Clark more say about airport location than a typical airline chief.
The aviation veteran, who has made Emirates the dominant player on inter-continental routes, said a review of Al Maktoum -- designed to serve as many as 250 million passengers -- must assess if it will be suited to a time when everything from check-in to baggage processing and security will be done remotely or with little physical infrastructure. He said Dubai can't have a "Jurassic" hub.
Clark's comments follow a Bloomberg report last week that construction at Al Maktoum had been halted and financing frozen as Gulf economies falter. Capacity at the facility, which opened in 2013 but serves only 11 passenger airlines, was due to reach 130 million once the first phase was built. Completion has already been pushed back by five years.