Market Metrics Say Emerging Equities Are Due a Rebound
(Bloomberg) -- Emerging-market bulls are taking some solace from a lengthening list of signals suggesting a rebound is in order after the worst quarter since the 2015 China hard-landing scare.
As the MSCI Emerging Markets Index of shares languishes near a one-year low, measures of volatility, liquidity and funding costs are offering encouragement. Other indicators -- from the extended positioning of short bets and historically cheap valuations to the premium offered by developing-nation bonds -- have already hit levels that signaled comebacks in the past.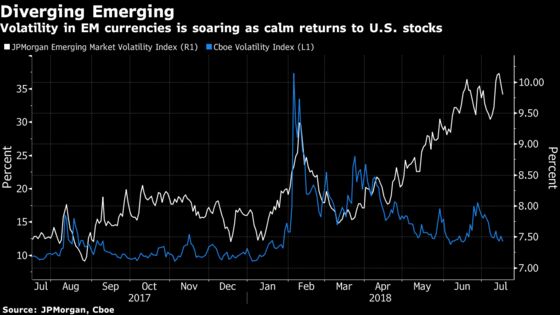 Volatility in developing-nation currencies has soared during the recent sell-off, at the same time that it's retreated for U.S. equities. The divergence is now on par with occasions in 2001 and 2015 that preceded a bottoming in emerging-market shares relative to the S&P 500 Index, Jason Goepfert, president of Sundial Capital Research Inc. wrote in a note to clients Monday.
Meantime, liquidity remains robust and above average, and financial capital flows into developing nations have turned positive over the last two months after a sustained period of net outflows, according to CrossBorder Capital Ltd. The research firm said in a recent note to clients that the latest risk-appetite readings suggest that investors are being too pessimistic toward the asset class.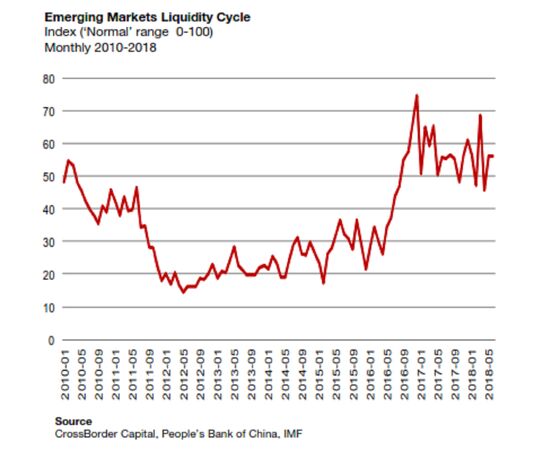 Also flashing green is the latest move in a closely watched gauge of short-term borrowing costs -- the Libor-OIS spread. Over the last couple of years, it has tended to lead the relative performance of emerging-market shares by about three months, according to strategists at Morgan Stanley. A narrowing of the spread from its April peak may signal better performance for emerging equities, the bank said in a recent note to clients.
The MSCI Emerging Market Index slipped for a second day on Tuesday, declining 0.4 percent by 9:41 a.m. in London and erasing gains for the month.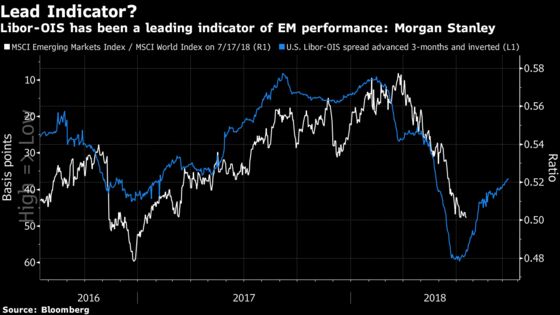 And there's still reason for caution for many. Rising trade tensions between the U.S. and China have threatened to curtail the global expansion. JPMorgan Chase & Co. strategists said in a note to clients Friday that further trade concerns, along with other cyclical risks, could limit any relief rally for developing-nation stocks.
Even so, the JPMorgan analysts agreed that cheaper valuations and more positive economic data have taken some of the "heat" out of the emerging-market sell-off, they wrote.