Emerging Markets Defy Contagion Concern From Turkish Lira
(Bloomberg) -- Contagion? Not this time. Developing nations are shrugging off concern that the tumbling Turkish lira and Argentine peso will infect global financial assets.
While pundits including Mark Mobius said the pain for emerging markets isn't over and Paul Krugman said the current wobble had the whiff of a crisis to it, markets have been far more sanguine. On Thursday, 16 of 24 emerging-market currencies gained as the lira plunged more than 4 percent even after Turkey's emergency interest-rate hike. Meanwhile, Argentina's peso extended a two-day slide.
"This isn't really an 'EM selloff' or, worse, an 'EM crisis' -– it's really just about Turkey and Argentina," Neil Shearing at Capital Economics wrote in a note.
Here are the main points that explain the differentiation:
The MSCI index for emerging-market currencies has dropped by about 3 percent since early April, when the selloff began. But that's a fraction compared with the lira and peso, each of which lost almost a fifth of their value.
"It would have to get substantially worse in Turkey for contagion of other EM currencies," said Per Hammarlund chief emerging-market strategist at SEB AB in Stockholm. "If Turkey sees substantial defaults or if banks stop servicing external debt, investors would pull back from EM more broadly. However, we are not there yet."
Goldman Asset Bullish on EM Currencies With 'Solid Fundamentals'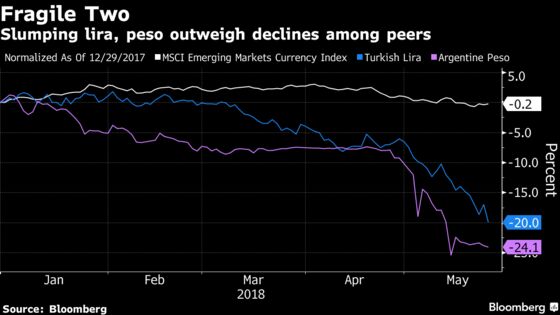 While greater swings in the lira are contributing to a surge in a gauge of expected volatility in emerging-market currencies, a similar measure for stocks is falling. That suggests derivatives traders are betting currency woes won't spread to equities.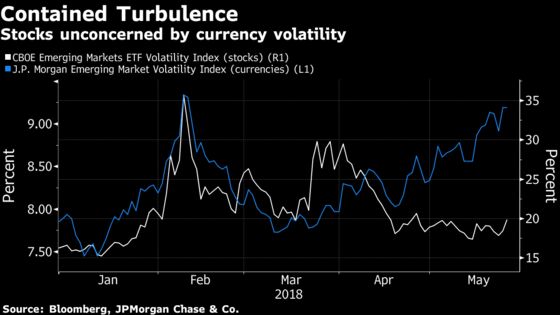 Double-digit inflation rates in Turkey and Argentina are making headlines. Yet they're more the exception than the norm in developing nations, where the weighted average inflation rate is less than 3 percent, near the lowest since at least 1990. Given that the selloff in the lira and peso have been partly fueled by concerns about consumer-price growth, there's little reason for investors to extend the bearishness to other emerging markets with a more benign inflation environment.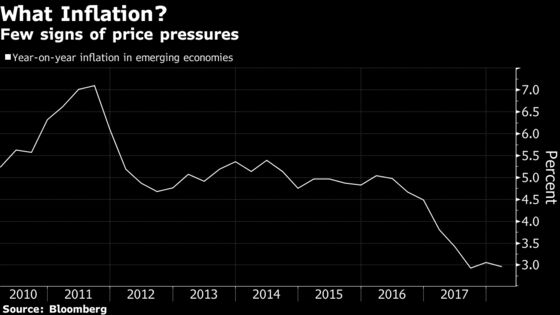 JPMorgan Says Emerging Markets In Better Shape Than '08 Crisis
Interest rates in emerging markets have been falling due to improved inflation numbers. While the U.S. is tightening, the average benchmark rate for developing nations fell to 5 percent last year from 7.7 percent in 2014. Brazil, for example, has been cutting rates since late 2016 to a record low of 6.5 percent.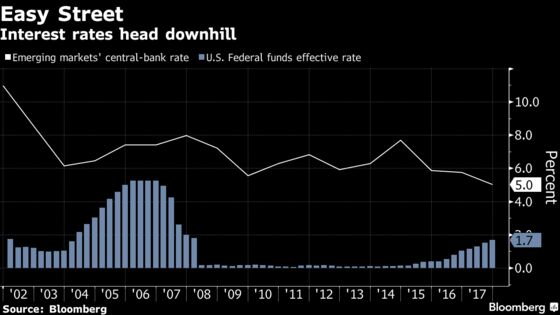 Emerging-market GDP growth decelerated in the greater part of the current decade, but improved last year. Developing nations are now expected to expand by about 5 percent until 2020, compared with forecasts for growth in the developed world to decelerate to 1.8 percent in two years.
Pimco Says 'Bit Early to Cry Wolf' on Emerging-Market Meltdown
Bond Sell-Off Makes Emerging Market Debt Attractive Again: Chart