Emerging Markets Eye Rally After Biggest Equity Exodus Since 2013
(Bloomberg) -- Emerging-market equities are looking to bounce back from the biggest stock outflows since the taper tantrum in 2013.
The $17.1 billion in non-resident portfolio withdrawals last month contrasted with inflows for developing-nation debt, according to analysts led by Sonja Gibbs at the Institute of International Finance in Washington. It also marked the fourth-biggest exodus since the IIF started tracking the data in 2005, and recent history indicates a rebound may be coming.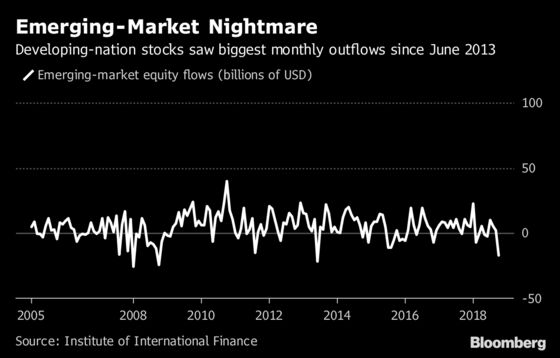 What can we glean from this? Well, the three largest outflows occurred in January 2008, October 2008 and June 2013. The first instance happened just before the global financial crisis. The second marked the beginning of a monster rally for emerging-market equities. MSCI's gauge of developing-nation shares returned 124 percent during the next two-and-a-half years. The most recent case in June 2013 also proved to be a good time to snatch up stocks on the cheap. Buying on July 1, 2013 and hanging on for the next 14 months would've returned 20 percent.