Emerging-Market Inflows Slow from a Flood to a Stream, IIF Says
(Bloomberg) -- The flood of capital into emerging markets after the worst of the pandemic is weakening as risk appetite ebbs, according to the Institute of International Finance.
While investors poured $31.2 billion into developing-world stocks and bonds in February, that is down from a record $107.4 billion in November, IIF data show. It's a sign that rising U.S. Treasury yields are damping the euphoria over vaccine rollouts and rallies in commodity markets, according to the institute, an industry group that represents financial firms from around the globe.
"The awakening fears of a reflationary cycle in the U.S., combined with the asset market rotation have capped the scale of capital inflows to EM and increased downside risk," Jonathan Fortun, an IIF economist in Washington, wrote in a note. "Rising U.S. rates increase the risk of a taper tantrum-like episode."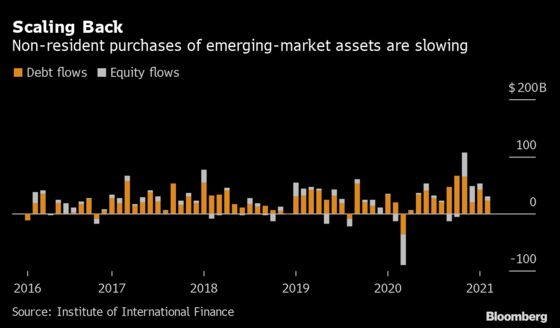 In the month of February, emerging-market debt attracted $22.8 billion in net non-resident purchases, the data show. Stocks only brought in $8.4 billion, the majority of which went to China. It was the smallest inflow to developing-world equities since money managers pulled $5.3 billion in October, according to the IIF.