Emboldened Bulls Drive S&P 500 Back Toward Post-Correction High
(Bloomberg) -- The S&P 500 Index pushed back toward its highest levels since February's correction as an improved outlook for dealmaking among media companies and a bigger-than-forecast pickup in retail sales lifted an already resilient market.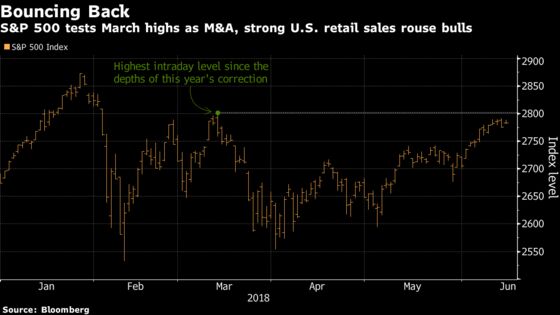 The benchmark for U.S. equities jumped as much as 0.5 percent to 2,789, putting it within 13 points of its intraday high of 2,801.9 on March 13. Media companies were among the biggest gainers after a court's approval of AT&T Inc.'s takeover of Time Warner Inc. A report showing that retail sales in May rose more than twice as much as forecast bolstered the rally, while a somewhat dovish message from the European Central Bank helped ease concern about a slowdown in global growth.
After an on-again, off-again recovery following February's decline, U.S. equity markets have been showing more resilience lately. The S&P 500 is headed for a fourth consecutive weekly gain as many tech stocks including Apple Inc., Amazon Inc. and Netflix Inc. trade at or near record highs.