EU Starts Sputnik V Review as Russia Seeks Vaccine Acceptance
(Bloomberg) -- The European Medicines Agency said it has started a rolling review of Russia's Sputnik V Covid-19 vaccine to test compliance with safety and quality standards, the first major step in gaining approval for use in the European Union.
"The rolling review will continue until enough evidence is available for formal marketing authorization application," the agency said in a statement Thursday. "While EMA cannot predict the overall timelines, it should take less time than normal to evaluate an eventual application because of the work done during the rolling review."
"Following EMA approval, we would be able to provide vaccine for 50 million Europeans starting from June," Kirill Dmitriev, chief executive officer of the state-run Russian Direct Investment Fund, which backed Sputnik V's development and is in charge of its international roll-out, said in a statement Thursday.
Russian President Vladimir Putin prompted international skepticism when he announced in August that the vaccine developed by the state-run Gamaleya National Center of Epidemiology and Microbiology had been cleared for use as the world's first Covid-19 vaccine even before phase 3 clinical trials for safety and efficacy had been completed.
But Sputnik V started to gain broader international recognition after The Lancet medical journal last month published peer-reviewed results of interim trials showing a 91.6% efficacy. With the EU's own vaccination program facing criticism for a slow start, German Chancellor Angela Merkel said shortly after that the Russian shot could be used to protect people in the 27-member bloc as long as it was approved by the EMA.
While 42 countries have authorized Sputnik V for use so far, Slovakia on Tuesday became just the second EU country after Hungary to grant emergency approval of the Russian vaccine, a move that prompted opposition leaders to accuse the Slovak government of undermining the bloc's approval process.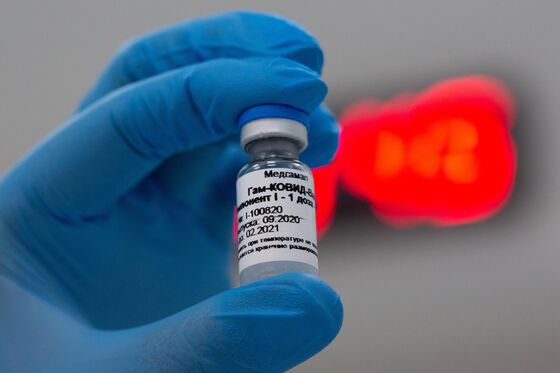 "We expect that several more EU countries will register Sputnik soon before EMA approval," Dmitriev said in an interview.
Russia said Jan. 29 that it had filed an application for EMA approval of Sputnik V. The agency said in a Feb. 10 statement that it had received no request for a rolling review of the vaccine, though it was in dialog with the developers.
The vaccine is also undergoing review at the World Health Organization and a rolling submission of clinical data started on Feb. 9, according to a March 1 update.
While Sputnik V is seeking approval to enter the EU's market, domestic demand continues to lag amid signs of growing reluctance among ordinary Russians to trust evidence of the vaccine's safety and effectiveness.
A February poll by the independent Levada Center found 62% of Russians said they wouldn't take the inoculation, the most since the question was introduced in August.