Electronic Arts Drops Most Since November on Profit Forecast
(Bloomberg) -- Electronic Arts Inc. fell as much as 6.7%, the most since November, after the video-game maker's forecast for fourth-quarter profit fell short of analysts' estimates.
Revenue this period will be $1.38 billion, Electronic Arts said in a statement Tuesday, above the $1.32 billion average of analysts' estimates. But adjusted earnings are forecast to come in at 98 cents, below the $1-a-share average forecast on Wall Street. The company blamed expenses for employees working at home and hiring for new projects.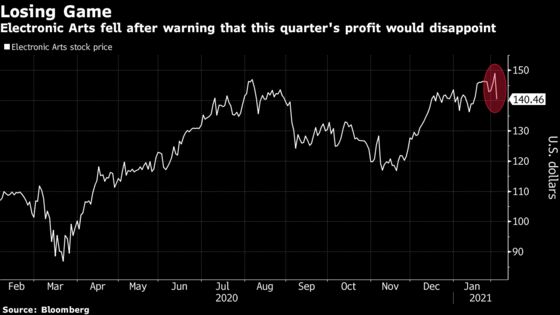 Higher costs are partly due to hiring the company embarked on to support new efforts, such as a just-announced college-football game, Chief Operating Officer Blake Jorgensen said in an interview. Electronic Arts also provided employees funds for items like office chairs and supplies while working from home, he said, adding they will be working from home until the fall. An anticipated tax change was reflected in the quarterly numbers as well.
Street Wrap: EA Tumbles After Results Miss High Expectations
EA beat third-quarter estimates, driven by the live service in FIFA Ultimate Teams and Apex Legends, the company said. In the prior quarter, growth in live services disappointed Wall Street, and this has been a key indicator investors watched in the December quarter. The company reported adjusted revenue of $2.4 billion, slightly exceeding analysts' projections of $2.38 billion. Adjusted earnings were also higher than expected, at $3.06 a share versus the $2.96 seen by analysts.
What Bloomberg Intelligence Says

"Electronic Arts' view for fiscal 4Q21 operating expenses that's about 10% above consensus is taking the shine off of otherwise strong growth trends that may extend through 4Q and into 2022. ... Still, given EA has under-spent expense guidance before, we believe this may yet prove conservative."

--Matthew Kanterman, technology analyst

Click here to read the research.
The company expects growth in fiscal 2022 as well, driven by the next Battlefield.
EA also said Tuesday that it will bring back its college-football video game that disappeared after 2014. It could be several years before the game is available, however. The company may wade into more college sports, Jorgensen said.
The Redwood City, California-based company continues to look at acquisitions, even after its purchase of Codemasters, Jorgensen said. "I would say you are going to see more," he said.
EA shares were down 5.8% to $140.41 at 10:04 a.m. Wednesday in New York. They gained 34% in 2020.