Electronic Arts Sinks as Pendulum Seen 'Swinging the Wrong Way'
(Bloomberg) -- Electronic Arts tumbled in pre-market trading on Wednesday, after the video-game company reported third-quarter results that missed expectations and gave a disappointing full-year outlook, hurt by a tepid response to its latest Battlefield title and competition from rival games.
Analysts were bearish on the results, with a number of firms slashing their price targets, including two that now stand as the lowest on the Street. According to Bloomberg data, the average price target currently is $99, down from $109 on Tuesday. Jefferies wrote that EA "looks unlikely to work until margin trends improve," and that it needs another blockbuster title to break out.
The stock fell 15 percent before the market open.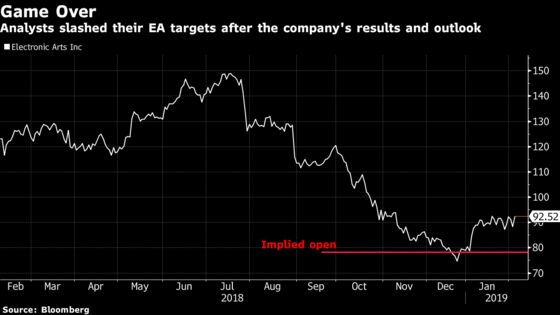 Here's what analysts are saying:
There were "some concerning trends on the Q ad guidance missed & live services were worse than expected."
"This is a pure play on sports, which we see growing at 5% ish, & we value non-sports at 0% growth rate, hopefully those numbers are conservative, but they support our valuation, still remain positive."
Lowers price target to $91 from $108 but keeps outperform rating.
Morgan Stanley, Brian Nowak
The "weaker than expected 4Q and fwd guide speak to continued execution headwinds particularly around its non-sports portfolio."
Cuts price target to $80, matching the lowest on the Street, from $100. Keeps equal weight rating but writes that "gaming is becoming more competitive and a broader full reevaluation of EA's development process may be necessary."
MKM Partners, Eric Handler
"The pendulum is swinging the wrong way right now but with FY20 expectations getting reset well below prior levels, EA might not have a lot of trouble clearing the bar."
Faces "a challenging turnaround," but "we continue to like EA's upcoming release slate and an expectation for no margin improvement next year seems a bit severe."
Keeps buy rating, price target to $92 from $112.
Benchmark Company, Mike Hickey
"We would be opportunistic buyers on weakness as we believe execution risk has already been realized, growth expectations have been rationalized and we view their relative valuation as compelling."
Lowers price target to $120 from a former Street-high view of $153. Keeps buy rating, writing that "while EA is not our favorite name in the group, we respect the Respawn team and are encouraged for Apex Legends, Star Wars and an unannounced game that could drive upside."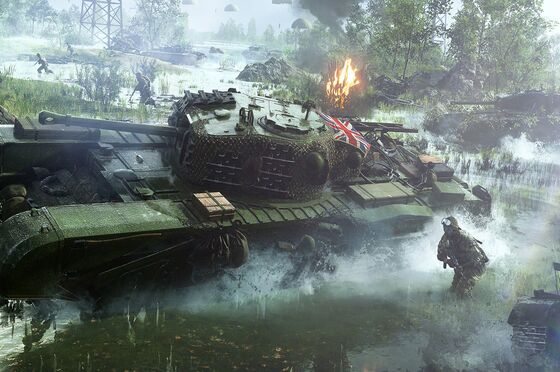 Jefferies, Timothy O'Shea
"With games like Fortnite applying intense pressure, everything except FIFA struggled. Battlefield V bombed, and the key 'live services' profit engine posted negative growth."
"EA has been a margin expansion story for 10 yrs, and the stock looks unlikely to work until margin trends improve. FIFA can't do it alone; EA needs another game like Titanfall Apex Legends to break out."
Keeps hold rating; price target to $80, matching Morgan Stanley's Street-low view, from $95.
Lowers price target to $95 from $110.