Elderly Bear the Brunt of U.S. Covid Death Toll Despite Vaccines
(Bloomberg) -- Even as vaccines are distributed to the oldest Americans, their share of Covid deaths in the U.S. hasn't abated.
U.S. deaths among those 85 and older have dropped from a peak around the end of last year in tandem with other age groups, but they've accounted for between roughly a quarter and a third of all Covid deaths since the beginning of the pandemic, according to the U.S. Centers for Disease Control and Prevention. More than half of deaths have occurred in patients over 75.
Although the elderly bear the brunt of the death toll, new research suggests younger people, age 20 to 49, are primarily responsible for Covid-19 transmission.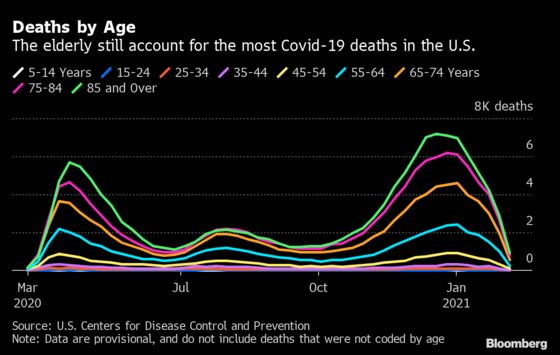 Experts say they expect deaths and hospitalizations to begin dropping, reflecting the protections from widespread immunization. Cases, hospitalizations and deaths in the U.S. have been falling for weeks since their post-holiday highs, though it's still not entirely clear how much of that decline is attributable to the vaccine. Eventually, as more of the elderly get their shots, that share could decline.
Carlos del Rio, executive associate dean at Emory University School of Medicine in Atlanta, said the vaccine isn't likely playing a significant role in the numbers. "We've given about 14 doses per 100 people," del Rio said. "That's good, but it's not good enough."
Instead, del Rio said the drop is more likely due to better social distancing behavior after the holidays, when travel contributed to the largest spike in the U.S. since the pandemic began.
The U.S. posted 95,194 new Covid-19 cases on Wednesday, bringing the seven-day average to 104,503, Covid Tracking Project data show. As of early Thursday, there had been at least 471,821 reported deaths, according to Johns Hopkins University.
According to Covid Tracking Project data:
No states posted single-day case records Wednesday, and average cases were flat or falling in all 50 states and Washington, D.C., compared with the week prior.
New York had the most people hospitalized with the virus per capita, with 390 hospitalized per million.
Kansas reported the most new cases per million people at 664.