Tivity Health Shares Hammered After Nutrisystem Deal
(Bloomberg) -- Shares of fitness and health improvement provider Tivity Health Inc. are being whipsawed after a $1.3 billion deal to acquire Nutrisystem Inc. left investors perplexed on the future prospects.
Tivity shares cratered more than 36 percent to the lowest level since February 2017 as investors weighed in skeptically on how a provider that focuses on senior citizens can merge to take advantage of the weight management services offered by Nutrisystem.
"Concerns of complicating Tivity's simple business seem to be the largest drag on the stock today," Jefferies analyst David Styblo wrote in a note. "We also think a lack of visibility about how Tivity will use Nutrisystem to sell into its customer base is weighing on the stock," he continued.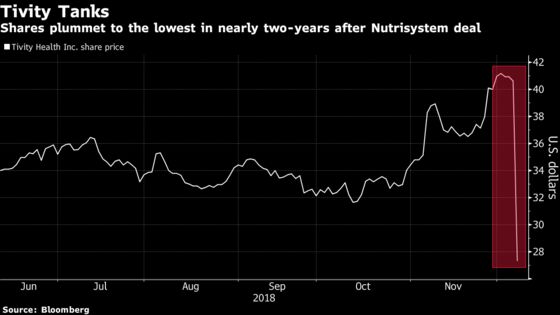 Shares of Fort Washington, Pennsylvania-based Nutrisystem surged as much as 32 percent, the most since April 2008, after the deal was announced. With today's gains, shares still remain more than 40 percent below their peak in 2006 and 35 percent below 2017's highs.
Piper Jaffray's Sean Wieland came out to defend Tivity, calling the share reaction "harsh" given the possible revenue synergies are intriguing.
Other health and wellness-related firms are outperforming the greater market in Monday's trading, with fitness firm software provider Mindbody Inc. up 2.3 percent and Nutrisystem peer Weight Watchers International up 2 percent. Before today, shares of Tivity were up more than 14 percent over the past year compared to a 26 percent gain for the broader S&P 600 Health Care Index.
Styblo discussed other overhangs, which include "not fully understanding how much Nutrisystem can be sold into TVTY" and Nutrisystem's growth slowdown

Some investors wanted Tivity to "navigate through the UNH headwind, pull the growth levers, and reestablish itself as a high single digit" organic revenue growth company

Wieland believes the combination "is in the best interest of individuals struggling with health and well-being" and will benefit shareholders

Says the cross-selling opportunity should drive revenue synergy with most of Nutrisystem's members in the target population of Tivity's Prime business