El Salvador's Top Judges, Attorney General Ousted by Ruling Party
(Bloomberg) -- El Salvador's bonds fell Monday by the most since the onset of the Covid-19 pandemic after the ruling party took control of the top court and replaced the attorney general, fueling speculation that President Nayib Bukele is prioritizing the consolidation of power over efforts to shore up the economy.
El Salvador's dollar bonds coming due in 2025 fell 5.9% to 97.81 cents on the dollar, the biggest one-day decline since March 18, 2020. That sent yields up more than two percentage points to 7.01%.
Bukele, a social-media savvy 39-year-old who won office in 2019, has consolidated his control of the Central American country after his New Ideas party and its allies took control of the legislature following a landslide win in the March elections. The latest moves drew widespread condemnation abroad just as El Salvador negotiates with the International Monetary Fund to secure a needed credit line to help cover its budget shortfalls.
"Instead of sending signals of an agreement with the IMF, the government is prioritizing its political agenda," Barclays Capital Inc. analysts Alejandro Arreaza and Nestor Rodriguez wrote in a note. "If investors lose confidence in El Salvador, the government could have to enter a debt restructuring process."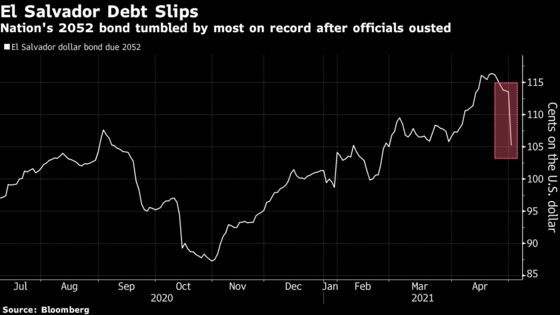 Finance Minister Alejandro Zelaya said during an interview with state television Monday morning that tax collections this year through April 30 have exceeded forecasts by $37 million. He said the constitutional court prohibited the government from pursuing tax cheats and urged the new attorney general to investigate 87 cases of evasion the finance ministry has identified totaling $71 million.
"We aren't going to allow tax evasion in El Salvador," Zelaya said. "We are going to pursue the bad business owners that are leaving the state without funds."
Bukele's party used Saturday's first meeting of a new legislative session to replace five magistrates from the court's constitutional chamber and to fire the attorney general. New judges took office immediately. Rodolfo Delgado was named attorney general, replacing Raul Melara.
"The Salvadoran people, through their representatives, said FIRED," Bukele wrote on Twitter. He later wrote that he was "extremely pleased" with the legislative session.
Business groups, international organizations -- including the Organization of American States and Human Rights Watch -- and members of President Joe Biden's administration were quick to criticize the sackings, which took place late Saturday.
"It's certainly a much faster institutional deterioration than the markets expected," said Carlos de Sousa, an investor at Vontobel Asset Management in Zurich, who oversees $4.1 billion in emerging-market debt. "It's clearly not welcome that Bukele is prioritizing concentration of power over economic stability."
U.S. Secretary of State Antony Blinken spoke with Bukele by phone on Sunday, said spokesman Ned Price, to express "the U.S. government's grave concern" over the magistrates' removal.
Blinken also raised U.S. concern with Bukele over the removal of Melara, "who's fighting corruption and impunity, and is an effective partner of efforts to combat crime in both the United States and El Salvador," Price said.