Egypt's Inflation Surprise Dims Rate-Cut Hopes With Third Uptick
(Bloomberg) -- Egypt's inflation inched higher for a third straight month in urban parts of the country, defying expectations of a deceleration that might have opened the door for the central bank to cut interest rates again later this month.
Annual inflation in January came in at 7.2%, compared with 7.1% the previous month, the state-run CAPMAS statistics agency, said Monday. On a monthly basis, the rate accelerated sharply to 0.7% after a drop of 0.2% in December.
"Going by recent precedents," a rate cut "looks unlikely given the uptick in monthly inflation," said Allen Sandeep, director of research at Naeem Holding.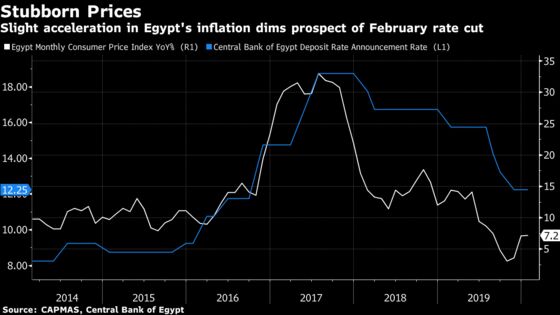 The bar may now be higher for the central bank to restart monetary easing after it unexpectedly refrained from a rate cut last month. Many economists had predicted inflation below 7% in January as last year's unfavorable statistical effects fade.
Price growth accelerated instead, including a monthly increase of 1.7% in food prices even after the government injected new supplies into the market before the end of the year.
Still, a rate decrease may still be in play, with inflation well below the central bank's target of 9%, plus or minus 3 percentage points, for the last quarter of 2020.
After four rate cuts last year, the real yield remains attractive to fixed-income investors, who have pumped billions of dollars into the local debt market since the 2016 devaluation of Egypt's currency served as the cornerstone of a sweeping economic program.
Even with the slight uptick in the annual rate, the central bank has room for a 50 basis-point cut on Feb. 16, "given a high margin of real rates," said Mohamed Abu Basha, head of macroeconomic research at Cairo-based investment bank EFG Hermes.