Egypt Keeps The World's Highest Real Interest Rate
(Bloomberg) -- Egypt extended its monetary easing pause for another month, seeking to keep local debt attractive to foreign investors as the pandemic cuts tourism, a key source of revenue.
The central bank held the benchmark deposit rate at 8.25% and the lending rate at 9.25% for a fourth meeting, the Monetary Policy Committee said Wednesday in a statement. Nine of 10 economists surveyed by Bloomberg predicted the decision.
Authorities will be keen to keep strong overseas portfolio investments "until tourists start to come back and foreign direct investment gains," Simon Williams, chief economist for Central & Eastern Europe, the Middle East and Africa at HSBC Holdings Plc., said before the decision.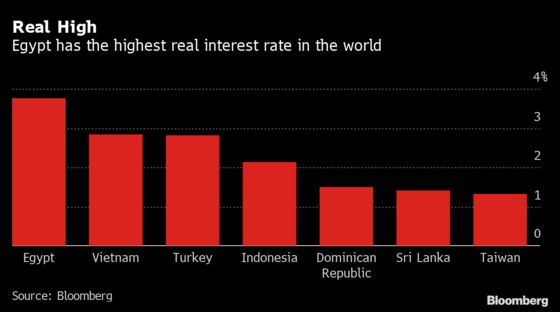 Tourism brought in $1.8 billion in revenue between July and December compared to $7.2 billion for the same period the year before, according to the central bank
At the same time, elevated returns and the stable currency have ensured the North African nation has been favorite for buyers of bonds and bills. Foreign investment in its debt hit a historic high of $28.5 billion at the end of February, with Egypt withstanding a selloff in global bond markets in the first quarter of this year.
Egypt's real rate -- the difference between its inflation and policy rates -- is the highest of more than 50 economies tracked by Bloomberg. Authorities target a 13.2% average interest rate on Treasury bills and bonds in the fiscal year starting in July, according to budget documents this week.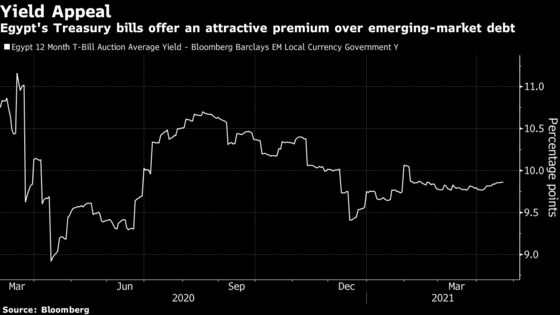 Local bonds could get a boost from their presence in a JPMorgan Chase & Co. index, with the bank putting Egyptian debt on review for inclusion in its local-currency government bond gauge, citing its increased liquidity and easier access for foreigners. Egypt may have a 1.8% weight in the index with 14 notes eligible, according to the lender.
"Against a gradually improving global macro backdrop, momentum on Egyptian assets continue to be strong, with the index inclusion angle into JPMorgan GBI-EM providing additional impetus to local assets," Societe Generale said in a report before the decision.
Annual consumer price growth held steady at 4.5% in March, below authorities' target range of 5%-9%.
The central bank will probably maintain the hold "until the inflation outlook or global financial conditions change sufficiently to require policy adjustments," Societe Generale said.