Egypt Changes Wheat Payment Terms in Move That May Cut Costs
(Bloomberg) -- Egypt agreed to change payment terms for wheat tenders in a move that may cut costs for the world's top importer and its suppliers.
Starting with the next tender, the state buyer will amend terms to pay suppliers immediately, rather than in 180 days, said Nomani Nomani, an adviser to the supply minister. That would cut loan costs for traders that need to finance the initial purchase of grain, which could then be passed on as the cargoes are sold to Egypt.
The General Authority for Supply Commodities is also considering changing terms for vegetable oil and rice tenders to immediate payment, according to people familiar with the matter.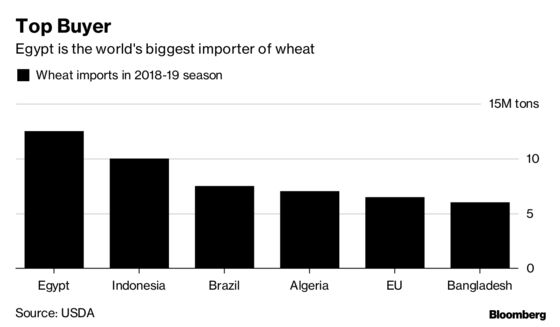 GASC agreed to the change for wheat tenders after a meeting on Monday with traders, who had asked for the amendment, Nomani said. Egypt hasn't always had a smooth relationship with traders, some of whom in recent years shied away from tenders or charged premiums amid issues including confusion over quality requirements. Last year, Egypt asked traders to delay some shipments over a payment issue.
The new terms "will lower the prices of wheat offered in tenders because it saves costs for suppliers who will receive their funds directly, and so the saving will be passed on to GASC," Nomani said. "It's better for everyone."
The move follows financing from the International Islamic Trade Finance Corp. to help fund the purchase of commodities, according to Nomani. The ITFC said in September that it signed a new agreement with Egypt to support the provision of supplies worth $1 billion.
Egypt's tenders are closely watched because they help set the tone for global prices. The revised terms may eventually allow suppliers to lower offers to GASC by about $3 to $6 a ton, according to a survey of four local traders.
"The shorter that time frame is, the lower the costs of carrying those unpaid bills ahead," said Rabobank International analyst Stefan Vogel, who added that offers may fall about $1. For Egypt, "it makes itself a little more attractive to suppliers."
The North African country, which spends large amounts on imports to supply bread for its almost 100 million people, has had to pay more amid higher prices from its main supplier Russia. Russian export prices have climbed to a four-year high as the market tightened following a fast pace of exports and a smaller crop last year.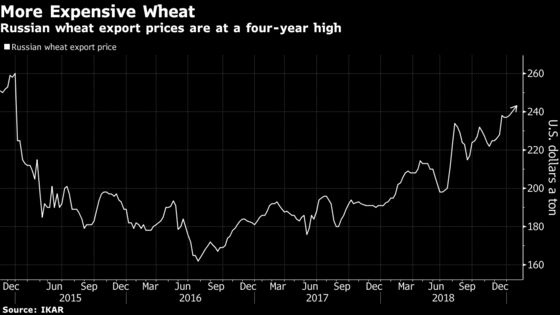 Prices have also gained elsewhere around the world, with benchmark futures in Chicago up more than 20 percent in the past year. The grain was little changed Tuesday as the market reopened following a U.S. holiday.
Read more: Egypt's wheat purchases are running 2% behind last year
For vegetable oil and rice tenders, GASC is considering changing payment terms from 180 days previously, according to two people who asked not to be identified because the matter is private. The state buyer plans to start tendering for fava beans, also on immediate payment terms, the people said.