Ecuador Bonds Tumble as Election Leaves 'Worst-Case Scenario'
(Bloomberg) -- Ecuador bonds fell for a second day as Sunday's presidential election threatened to throw the Latin American nation back into economic turmoil.
With less than 1% of votes left to count, Ecuador is heading for an April runoff between leftist Andres Arauz, with almost a third of the vote, and the indigenous party's Yaku Perez, with 20.10%. To investors' surprise, market friendly Guillermo Lasso is third with 19.49%, according to the National Electoral Council's latest count.
"An Arauz-Perez runoff represents the worst-case scenario for investors as Perez is more radical than Arauz on many economic policy issues," Eurasia analysts Risa Grais-Targow and Laura Duarte wrote in a note. "He has been highly critical of the IMF program and refused to meet with fund staff, and expressed a desire to audit and restructure external debt."
The nation's dollar-denominated bonds due in 2040 slipped another 2 cents to 43.7 cents on the dollar on Tuesday, putting the notes on course for their lowest since the serial defaulter restructured $17.4 billion in debt last year.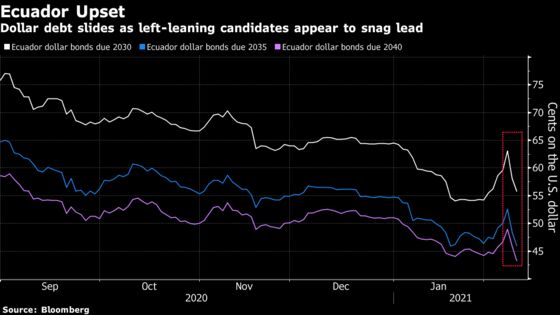 The average extra yield money managers demand to hold the nations sovereign debt over U.S. Treasuries has widened by 60 basis points to 1,251 basis points on Tuesday, according to JPMorgan Chase & Co indexes.
Investors are weighing the risk to last year's debt exchange and a deal inked with the International Monetary Fund. Both Arauz and Perez have criticized the tax increases and spending cuts required by the lender as part of its $6.5 billion loan package. Perez also promised to seek talks to ease the nation's debt payments if he wins the election, while both he and Arauz on Tuesday rejected a government bill to strengthen central bank autonomy.
"The policy risks seem challenging under either a Perez or an Arauz administration with ideological and populist constraints that may compromise IMF relations and aggravate budgetary stress," said Siobhan Morden, head of Latin America fixed income strategy at Amherst Pierpont Securities.
And to add to the mix, Lasso has refused to concede, saying that there are thousands of votes to review.
With close to 10% of local vote tallies showing inconsistencies, Lasso may yet win second place, said political scientist Maria Jose Calderon, who was the secretary of a voting precinct in Quito.
Authorities have until Feb. 17 to review the ballots, after which the candidates have a legal window to challenge the results.
"Though the final outcome is still unclear, what is quite clear is that Ecuador has delivered a vote against the establishment," said Eileen Gavin, principal Latin America analyst at risk analysis firm Verisk Maplecroft. "The vote was also against 'establishment' economic policy, and IMF tutelage."