Economist Urging Euro-Exit Plan B Tipped as Italy Finance Chief
(Bloomberg) -- Paolo Savona, an economist and company executive who's repeatedly called on the Italian government to plan for a possible euro exit, is the front-runner to become the finance minister in the country's populist administration now being formed, officials said.
Savona, 81, who served as industry minister a quarter of a century ago in the short-lived technocrat cabinet led by late Carlo Azeglio Ciampi, is the candidate picked by the euro-skeptic Five Star Movement and League, according to two officials from the parties, who declined to be named discussing confidential talks.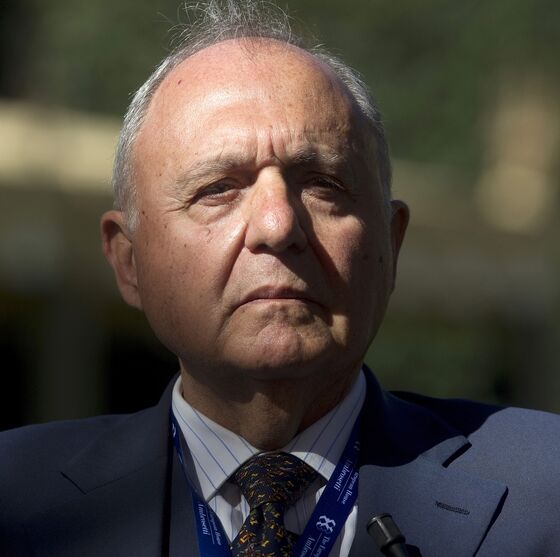 Italian bonds have slumped since details of the populists' spending plans emerged last week, paring some of the losses on Tuesday. While the two allies haven't urged pulling out of the common currency in their government program, the naming of Savona may sound alarm bells within the euro area given his views on the single currency's impact on the Italian economy.
Savona would set the budget policy for the euro region's third-largest economy which has the area's second-biggest public debt load.
In a July 2015 interview with Vita weekly magazine, Savona criticized Germany for playing the role of "commanding country in Europe" and "using Greece to reaffirm" it. He also called on the Italian governments to have a Plan B at hand in case of a euro exit.
"If Italy were caught unprepared, it would be a tragedy," Savona said in the interview which was also posted at the time by the Five Star Movement founder Beppe Grillo on his website. "The high level of Italian debt is the key reason for which we may be blackmailed into 'making reforms' and to ensure that the power within Italy stays with those that have invoked and perpetuated this state of international subjugation."
Still he has stopped short of calling on the country to leave the 19-nation euro region.
Five Star leader Luigi Di Maio said Monday he's proposed Giuseppe Conte, a 53-year-old law professor from Florence University, to lead a coalition government after a deal with his partner Matteo Salvini of the anti-immigrant League.
President Sergio Mattarella, after meeting the two leaders, is taking his time as he considers whether to formalize his nomination for premier. Di Maio, Salvini and Conte, held talks Tuesday in Rome on the government team, including Savona as possible finance minister, newswire Ansa reported, citing people familiar.
Savona is an economist of repute but Mattarella, who names the premier and ministers, would have to assess his stand against the euro, according to a senior state official who declined to be named discussing presidential strategy. Savona "is not likely to be viewed as a market-friendly candidate," Rabobank said in a note.
Savona, who started his career at the research department of Italy's central bank in 1961, has been a director general of the country's main business lobby Confindustria, then an executive at several Italian companies including Impregilo SpA.