ECB Should Tell Market When Rates May Rise, German Economist Says
(Bloomberg) -- One of Germany's most prominent economists is urging the European Central Bank to be more transparent in outlining its exit from unprecedented monetary stimulus and argues that ruling out an end to negative interest rates next year may be a mistake.
Volker Wieland, a member of the government's council of economic advisers, said he questions whether forecasts showing inflation around 2% in the longer term are still in line with a deposit rate of -0.5%. To enhance clarity, the ECB should consider making interest-rate projections similar to those published by the Federal Reserve.
"It would force everyone to think harder about what is actually consistent" and "markets could much better adjust to what policy makers think," he told journalists late on Monday. "The ECB has a certain communication deficit compared to some of its peers."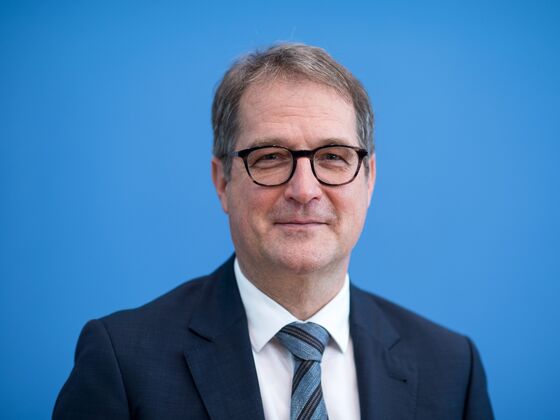 The Fed's so-called dot plot is carefully monitored by economists and investors for policy makers' views on the future path of interest rates. Published quarterly along with a set of projections for growth and inflation, the latest update from September shows U.S. borrowing costs settling at 2.5% in the longer run. 
While higher interest rates next year are in the cards for the U.S., ECB officials including President Christine Lagarde have said a liftoff in the euro area is "off the chart." In the absence of more formalized guidance, investors are still flirting with the idea. 
Wieland argues that a "quantitative" approach to communicating policy makers' intentions could help address this type of speculation. 
"If the ECB were to present such a strategy, the crucial question wouldn't be whether the first rate increase comes in the fourth quarter of 2022 or in the first quarter of 2023, but how the path toward a 2% inflation equilibrium shapes up and whether it's convincing," he said. 
Wieland said he'd favor starting rate hikes earlier rather than having a quicker cycle at a later point -- particularly in light of current inflation risks.  
"I wouldn't exclude that if inflation turns out stronger in 2022 -- it's a risk -- that the negative deposit rate will be abandoned in the course of that year, maybe in the final quarter," he said. 
Euro-area inflation jumped to 4.9% in November, a record for the era of the single currency, and is likely to exceed 2% on average next year. Professional forecasters see the rate settling at 1.9% in the longer term. 
The ECB is set to publish new projections in two weeks.
Wieland acknowledged that inflation rates will drop "very quickly" in the coming months as base effects fade, but there are still "upward risks" such as longer-lasting supply bottlenecks, a pickup in wages and abundant money and credit supply.
The new omicron coronavirus strain threatens the outlook, and Wieland sees a risk of another contraction in Germany if there's another lockdown. That would trim 2021 and 2022 growth forecasts to about 2.5% and 4.2%, he said. Earlier this month, the council of economic advisers predicted expansions of 2.7% and 4.6%.
Wieland, a professor for monetary economy at the University of Frankfurt, has been mentioned in the media as a candidate to succeed Bundesbank President Jens Weidmann when he steps down at the end of the year. 
On Monday, he said one shouldn't make too much of these reports.
"Of course I'm flattered to read my name in the paper and to be considered qualified enough for such a position," Wieland said. "But there were many names of many competent colleagues, so you'll understand that I don't want to say much more on that topic."