ECB's 'Temporary Slowdown' Narrative Approaches One-Year Mark
(Bloomberg) -- Jens Weidmann is the latest European Central Bank official to make the case that the slowdown in the euro-area economy and its members is temporary. That narrative is starting to age.
Nearly a year ago, economists across the region started puzzling over a range culprits that were weighing on economic data, from cold winter weather to flu-related absences hampering output. ECB President Mario Draghi first referenced the impact of such one-offs last April, and since then a number of challenges have compounded to make the institution's economic analysis even more difficult.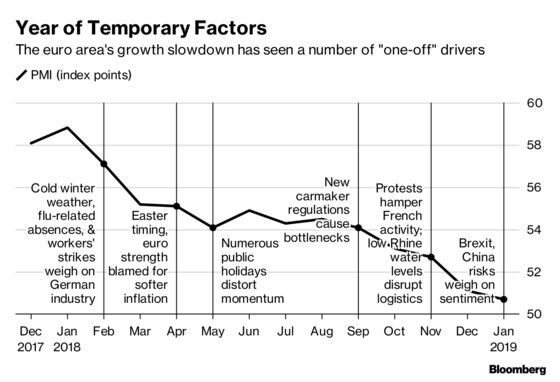 The latest such hurdle was mentioned by Germany's statistics office on Thursday, which said a slump in retail sales in December was probably related to a growing preference for gift vouchers. Draghi noted at his last policy update that while uncertainties about trade, Chinese growth and Brexit were weighing on confidence, they would eventually wane.
To Weidmann, who heads Germany's central bank, the temporary slowdown shouldn't deter the ECB from normalizing policy. The view appears to have at least partially caught on with many of his colleagues -- the Governing Council decided to halt bond buying at the end of 2018. The next step, an interest-rate increase, will depend on whether the present hurdles can be cleared or should be declared somewhat more permanent.