ECB `Operation Twist' Talk Drives French Yields to 19-Month Low
(Bloomberg) -- Speculation that the European Central Bank will introduce an "operation twist" after it ends its asset-purchase plan is turning the French yield curve on its head.
The yield on France's 30-year bonds dropped to its lowest level in 19 months Tuesday, reducing the premium over five-year notes to the least since November 2016. A media report last week said that the ECB will reinvest proceeds from maturing bonds into longer-dated securities amid a shrinking pool of eligible debt.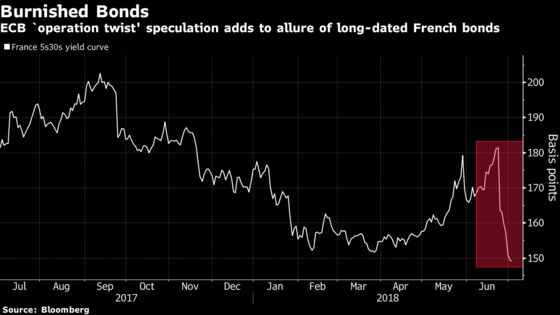 ECB President Mario Draghi said last month that the central bank will halt its asset buying in December, while maturing debt will be reinvested for an extended period after the end of net purchases. Draghi also said that policy makers planned to keep interest rates at current record lows "at least through the summer of 2019."
With holdings of German bonds close to the ECB's self-imposed 33 percent cap, the central bank is likely to buy in "semi-core" and "peripheral" countries such as France, Spain and Italy, according to Morgan Stanley. The U.S. bank recommends investors put on an outright flattening trade in 10- and 30-year French bonds. Barclays Plc also expects the yield spread to narrow.
"The flexibility for operation twist on the German curve is fairly limited," Morgan Stanley strategist Elaine Lin wrote in a note to clients. "The scope to buy across the curve on the larger sovereigns, i.e. France, Italy and Spain is much more meaningful."
The Federal Reserve implemented a program that came to be known as "Operation Twist" in 2011, which saw it sell its short-dated Treasury holdings to buy longer-dated debt. There are some signs of disagreement over whether the ECB should distort reinvestments, with Bundesbank member Joachim Wuermeling saying that the German central bank doesn't believe in monetary policy related adjustments.
French 30-year bond yields fell to 1.48 percent in London Tuesday, the lowest since November 2016. The spread over five- and 10-year peers was little changed Wednesday, around 149 basis points and 84 basis points, respectively.
The latest monthly QE data from the ECB showed that the central bank switched to a longer duration approach, according to Commerzbank AG. The German bank estimated the weighted average maturity of sovereign bonds bought in June was 10.1 years. The comparable estimate for French bonds was 11.4 years, according to Bloomberg calculations.