ECB in 'Currency War' Over Euro, Commerzbank Strategist Says
(Bloomberg) -- The European Central Bank's views on the euro this week amount to a declaration of "currency war," according to research from one of Germany's biggest banks.
The euro has slid in recent days after policy maker Klaas Knot said the central bank has the tools to prevent any further strengthening of the currency undermining inflation. Officials have since stressed that includes interest-rate cuts, to counter market skepticism, and plan to look into whether the euro's gain since the start of the pandemic is driven by differences in stimulus policies versus the U.S.
"The timing of the ECB's communication campaign suggests that it does not want to slow down the speed of appreciation of the euro, but wants to force certain exchange rate levels," Commerzbank AG's head of currency strategy Ulrich Leuchtmann said in a note. "We can only interpret this to mean that the ECB has de facto declared currency war."
The comments come as central banks globally are worried about the strength of their currencies undermining a recovery from Covid-19. New U.S. Treasury Secretary Janet Yellen has said the country won't seek a weaker dollar to gain advantage over other nations, and will work against any moves by other countries to pursue such a strategy.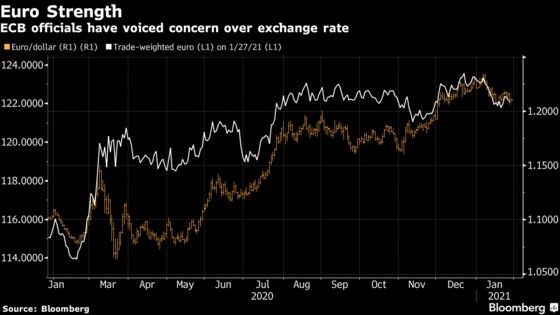 That follows the U.S. Treasury Department last year designating Switzerland a currency manipulator and keeping China on a watch list for their central banks' interventions to weaken the franc and yuan. By addressing the euro, the ECB has "waved goodbye" to the consensus among the Group-of-7 of not targeting exchange rates, Leuchtmann said.
The remarks by Knot, who said officials are carefully monitoring the exchange rate, have been "reinforced by other rumors coming out of the ECB," Leuchtmann said. Fellow Governing Council member Olli Rehn echoed Knot's remarks on Thursday.
The euro traded at $1.2128 as of 1:19 p.m. in New York, down 0.4% this week. Last year it gained almost 9% against the dollar, the biggest annual jump since 2017, and rose by almost 5% in the final two months. That put pressure on inflation -- which is already below zero -- by cutting import prices. It can also curb economic growth by making exports less competitive.
The ECB's chief economist Philip Lane made similar comments in September, which could be interpreted as concern over the speed of euro appreciation, Leuchtmann said. Now, he thinks there is some suspicion policy makers are attempting to manipulate the level of the euro against the dollar -- the world's most traded currency pair.
Investors may find out which level policy makers are concerned about in the coming weeks. This month's highs of around $1.2350 could be a trigger for further verbal intervention, Leuchtmann said in follow up comments.
"There is no excuse for manipulating euro-dollar levels, at least not for a central bank that has promised to do the opposite," Leuchtmann said. "Behavior of this nature is much more likely to cause counteraction by other central banks, which in turn would end in a currency war, unless everyone comes to their senses again."
Meanwhile, RBC's Adam Cole highlighted that a Bank for International Settlements' euro gauge that adjusts for inflation is "almost exactly in line" with its 20-year average.
"Other measures of competitive fair value – purchasing power parity, relative unit labour costs – tell a very similar story – EUR is currently close to competitive fair value," Cole, the head of currency strategy at RBC Europe, wrote in a note Thursday. "Neither of the assertions that EUR is 'strong' or 'strengthening' really stands up to scrutiny."
That won't stop the central bank from trying to talk down the currency, Cole said, but with monetary policy "very close to its limit, there is very little the ECB can do to influence the level of EUR."