ECB Buys Most Bonds Since 2017, Even Before Latest Increase
(Bloomberg) -- The European Central Bank ramped up its government bond buying program even before it boosted quantitative easing by an extra 750 billion euros ($805 billion).
Purchases of public-sector bonds in the week through March 20 added 13 billion euros to the ECB's portfolio, the most since 2017. That doesn't include any purchases made after the institution announced its Pandemic Emergency Purchase Programme last Thursday, but likely reflects the 120 billion euros announced at its March meeting.
"This confirms that they had to up the ante in order to avoid market panic," said Christoph Rieger, head of fixed rate strategy at Commerzbank AG.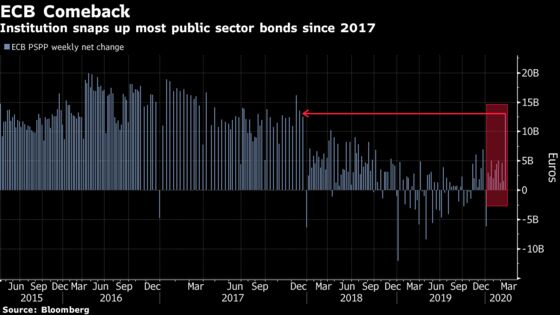 The ECB's enhanced program now includes 1.1 trillion euros of planned purchases this year, the prospect of which sent the region's bonds soaring. It's the biggest annual amount ever.
"Clearly the pace of PSPP has speeded up," said Martin van Vliet, a strategist at Robeco. "It seems the first envelope of 120 billion euros has been getting deployed."