EasyJet Says Covid Strain Holds Back Fragile Travel Recovery
EasyJet Plc said the omicron variant of Covid-19 is impacting short-term demand but hasn't yet derailed a recovery in air travel.
The U.K. discount carrier has reined in capacity this quarter as some customers with reservations delay flying and others put off booking, it said in a statement Tuesday. Demand for city-to-city flights has taken the biggest hit, with beach-holiday and domestic markets holding up fairly well.
"The effect this has is definitely much more on the short-term departures," Chief Executive Officer Johan Lundgren told Bloomberg Television. "Some people are moving their departures into the beginning of next year, and we're also seeing that next summer is not affected at all."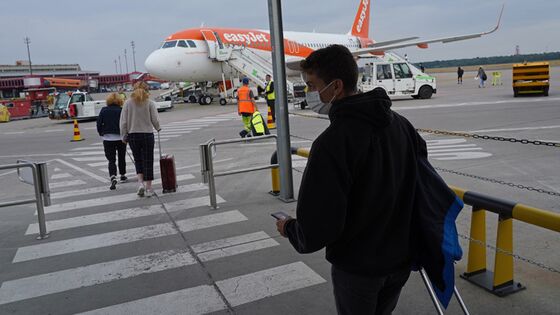 The EasyJet report provides an early view into how new border restrictions meant to stop omicron are affecting demand for air travel. The industry has been slammed repeatedly as governments respond to the health threats posed by the two-year-long coronavirus pandemic. Lundgren said that so far, the dip tied to omicron's emergence hasn't been as steep as before.
"It's still very early and we'll need to wait for things to settle down," he said. "We've seen in previous times, when there has been news such as this, you get an immediate dropoff. It's not as significant this time. It's not to the same level of downside."
EasyJet shares were little changed at 502.8 pence as of 12:18 p.m. in London. Airline stocks fluctuated on Tuesday based on the developments around the new variant and its impact. 
Even before omicron grabbed headlines, EasyJet's low-cost competitor Ryanair Holdings Plc warned last week that spiraling infection rates were putting Europe's nascent rebound at risk. Britain since reintroduced its red list of banned nations and mandatory PCR tests for arrivals, steps followed by other European countries.
The aviation industry is still assessing impact of the new variant and whether it has the potential to hurt demand into the crucial summer season. 
On Tuesday, Scandinavian flag carrier SAS AB said it was still seeing ticket sales surging for next summer, and it was too early to say whether omicron will affect demand. John Menzies Plc, which provides aviation services including refueling, forecast Tuesday that flight frequencies will reach around 80% of 2019 levels next year.
EasyJet has taken a more cautious approach to restoring flights than rivals such as Dublin-based Ryanair and Hungary's Wizz Air Holdings Plc. 
The British carrier had planned to lift capacity to 70% of normal levels this quarter, but cut that figure to 65%. It's now targeting the 70% figure in the second quarter beginning January and something close to 2019 volumes by the summer peak, guidance Bernstein analyst Alex Irving said in a note is "reassuring for the shape of demand."
Lundgren said he's now expecting a fiscal year of two distinct halves, with uncertainty prevailing over the winter -- when demand is in any case low and airlines often lose money -- followed by "a strong pick-up into the summer."
Growth next year will be spurred by the addition of more operating slots at London Gatwick airport, already EasyJet's biggest base, as well as at Milan Linate and in Portugal. The carrier will in turn increase its operational fleet to 322 Airbus SE narrow-body planes from 308 at the end of September.
EasyJet posted a pretax loss of 1.14 billion pounds ($1.5 billion) for the year through September, after saying on Oct. 12 that the figure would come in between 1.13 billion pounds and 1.17 billion pounds.