East Europe Keeps Rates on Hold as Euro-Area Weakness Prevails
(Bloomberg) -- Central banks in eastern Europe kept borrowing costs unchanged as expected as the euro area slowdown outweighed inflation outlooks.
With the European Central Bank facing dwindling chances of being able to raise rates this year, policy makers in Poland, the Czech Republic, Romania and Serbia took a wait-and-see approach to asses risks coming from their biggest export market. That's rare unity in a region that saw diverging monetary paths last year, ranging from a series of rate hikes in the Czech Republic to cuts in Serbia.
One-week reference rate: 1.5 percent
Inflation rate: 1.1 percent (December)
Poland, which has kept its benchmark rate at a record-low since 2015, extended the pause after inflation slowed to a two-year low in December and concerns grew about prospects for the global economy. Price growth has undershot the 2.5 percent target for six years, even as the EU's largest eastern economy expanded 5.1 percent in 2018. Governor Adam Glapinski said rates will remain unchanged at least into 2020, adding that other central banks including the Federal Reserve may have been too swift in turning to monetary tightening.
"We're conservatively using the same policy, maybe even for the longest time in the world," Glapinski said after the decision. "It works and it's good."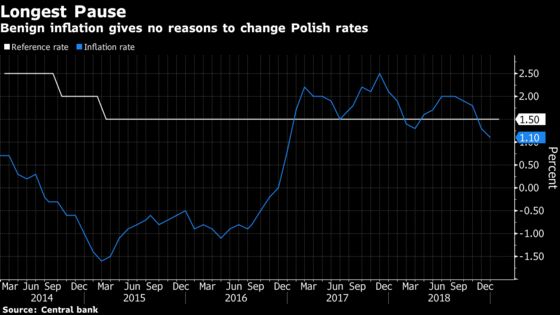 Two-week repurchase rate: 1.75 percent
Inflation rate: 2 percent (December)
The Czech central bank, which led monetary tightening in Europe with five rate increases last year, held borrowing costs unchanged for a second meeting, with Governor Jiri Rusnok citing external risks as a key factor. He said he "can imagine" one or two more hikes this year, calling inflation pressures significant. The bank cut its economic growth forecast for 2019 and 2020. An adverse economic scenario could warrant keeping rates on hold, Rusnok said.
"Although tight conditions in the labor market and the weak koruna have been affecting the economy in a proinflationary direction, the external environment poses a risk for the Czech economy, which probably significantly influenced the final decision," Erste Group Bank analyst Jiri Polansky said in a note.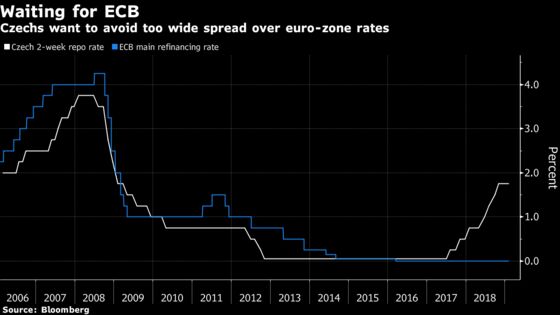 Benchmark rate: 2.5 percent
Inflation rate: 3.27 percent (December)
The Romanian central bank refrained from changing borrowing costs for a sixth meeting after three hikes last year brought inflation back to the target band. At the same time, a surprise government plan to introduce a bank tax linked to interbank rates continues constraining monetary policy and limits the central bank's maneuvering room.
"We're not denying the government's right to introduce new taxes, but the connection with monetary policy benefits no one," central bank Governor Mugur Isarescu told reporters in Bucharest. "Finding a mutually agreed solution will be tough but we're continuing dialog."
One-week repurchase rate: 3 percent
Inflation rate: 2 percent (December)
Serbia, which last cut borrowing costs in April 2018, held its benchmark interest rate at a record low for a tenth meeting as inflation hovers below the 3 percent mid-point of the target band. The loose policy has helped fuel economic growth to 3.5 percent in the fourth quarter. Policy makers said in a statement that caution is still needed in pursuing monetary policy mainly because of global developments.