Texas Beats Total 2016 Vote Count Four Days Before Election
(Bloomberg) -- In a sign of the passions sparked by the U.S. presidential race, Texas has surpassed its total 2016 vote count four days before Election Day.
Through Thursday, more than 9 million Texans had cast ballots, compared with 8.97 million four years ago, a record high at the time. Neither party knows who will benefit most from the surge, but it has put the reliably Republican state in play as a full-out battleground in the campaign's final days.
Nowhere has seen a more dramatic display of enthusiasm than Harris County, home to Houston, Texas's biggest city and the embodiment of its rapid growth and diversifying suburbs. The county's votes so far compose more than 15% of all those cast in the sprawling state. The remarkable numbers are driven in part by innovations by freshly appointed County Clerk Chris Hollins.
Across the U.S., local and state officials are battling in court over voter access and early balloting as the Covid-19 pandemic complicates an already tense election. Texas is among the most closely watched after recent polls have been narrow enough to entice Democrat Joe Biden to send his running mate, Senator Kamala Harris, to Texas for a tour of the state on Friday.
"Y'all have been doing your thing," Harris said during a drive-in rally in Fort Worth, according to the Associated Press. "Early voting in Texas, 9 million? Now we know this is no time to let up on the pedal, though, right?"
Many of the Texas counties with the most dramatic surges in early voting are urban centers like Houston, a trend infusing fresh hope into Democrats' dreams of flipping Texas. But solidly red counties have also seen records. And Texas has historically been lightly polled, leaving analysts skeptical of surveys showing a neck-and-neck presidential race.
There's no denying the phenomenon, however. The first day of balloting in Harris County, Oct. 13, attracted more voters than all of Georgia, which began the same day. Despite those throngs, complaints of lines have been sparse, thanks to drive-thru voting and more than 100 locations in the county. On Thursday, some Houston polls began staying open all night for people who can't take off time from work.
Just seven months ago, America's fourth-biggest city was making headlines for a very different reason. Residents voting in the Democratic primary complained of lengthy lines that kept them waiting until well into the night. Black and Latino voters were among those most affected.
"It is clear that the history of marginalized communities being left behind in the voting process has led to polling deserts in areas of Harris County," Diane Trautman, then-Harris County clerk, said in a statement at the time. In the middle of May, weeks before primary runoff elections, she abruptly resigned.
Enter Hollins, a 34-year-old Yale University and Harvard Business School graduate who served as a junior official in the Obama administration's personnel office. Tapped by county commissioners to correct course, he has kept the early-voting system running, even as opponents continue to throw up new challenges.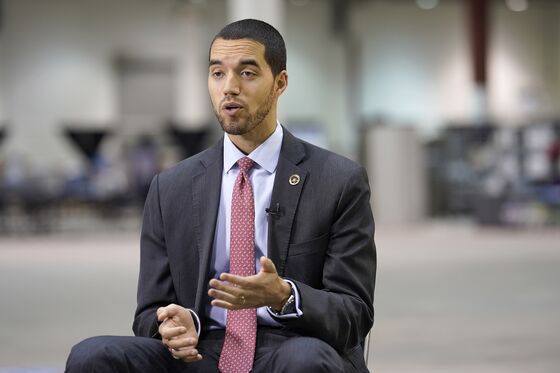 Hollins, who also is vice chair of finance for the Texas Democratic Party, put his career as an attorney on pause to take over the post, becoming the first Black man to be county clerk. His job would be to make sure the third-most-populous county in the U.S. was ready for a historic election.
Part of the solution was straightforward: Harris County simply needed more polling locations and longer hours. With that expansion, Hollins would need more volunteers.
With restrictions on who qualified to vote by mail in Texas, Hollins wanted options for pandemic-wary voters. His solution: in-car voting.
The drive-thru is already a staple of Houston, a sprawling city that infamously lacks zoning laws. Why not tap the same model employed by Whataburger and to-go margarita stands?
To test it, the county tried an unannounced pop-up during primary runoffs. It offered drive-thru voting one day at a single location. About 200 voters gave it a shot.
Then came the lawsuit. On the eve of early voting for the general election, Texas Republicans sued the county over its drive-thru plans, an effort that failed in the state Supreme Court.
It was just part of a legal cavalcade that continues into this week.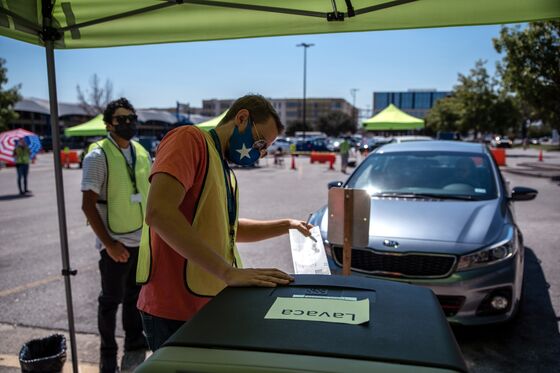 On Tuesday, the Texas Supreme Court upheld one of the most contentious election orders: Republican Governor Greg Abbott's move to limit counties to just one ballot dropbox. The same day, a trio of Republicans filed another challenge to drive-thru voting in Harris County.
The state had already sued to block Hollins from sending mail-in ballot applications to all residents, winning in the high court.
"I've gone through many elections, and I don't recall ever having lawsuits like these," said Douglas Ray, a special assistant to the Harris County attorney's office. "I certainly haven't had to deal with the attorney general coming down on us repeatedly."
Among the officials elected Nov. 3 will be a new county clerk -- one who isn't Hollins. Maybe he'll run for office down the road, but Hollins said his time as clerk was always meant to be temporary.
Meantime, he's focused on the 50% or so of registered voters in Harris County who haven't yet cast a ballot: "We still have about a million people to go."
Each one will help Texas set a fresh mark for democratic participation -- and perhaps alter its politics for years to come.
(Michael Bloomberg, founder and majority owner of Bloomberg News parent Bloomberg LP, has said he's spending $15 million to support Biden in Texas and Ohio.)