Fortnite Fever Shows Signs of Cooling, Giving a Boost to EA
(Bloomberg) -- Electronic Arts Inc. is rising for the first time in six days as investors took solace in data that showed a steep drop in revenue from competitor Epic Games Inc.'s breakout multiplayer gaming phenomenon Fortnite.
A report released late last week by SuperData, which tracks the industry, showed that Fortnite's revenue on all platforms declined 48 percent month-over-month in January. EA shares rallied as much as 3.9 percent Tuesday, following a five-day drop. They ended Monday's session down less than 0.1 percent after falling as much as 2.4 percent earlier in the day.
The slip in revenue from Fortnite -- which is free to play and relies on in-game purchases -- is a positive for Electronic Arts. The Redwood City, California-based company's own battle royale title, Apex Legends, has been gaining traction since its Feb. 4 release.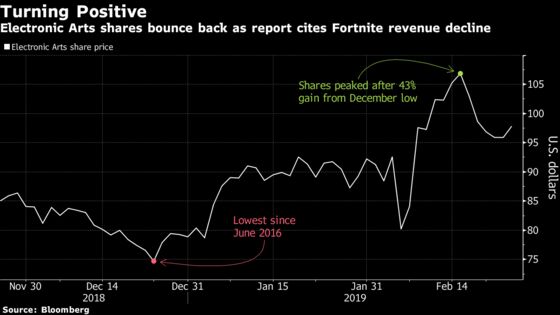 Jeff Cohen, a research analyst at Stephens Inc., says the decline in Fortnite revenue this January is not related to Apex Legends, given the game's surprise launch last month. However, EA is largely bouncing back from some disappointment yesterday, related to "critical consensus to Anthem as well as some sales data that came out of the U.K.," he said.
Cohen remains bullish on the stock with a $120 price target, saying EA has the "strongest competitive position of the four major public publishers with their stable sports franchises, Apex Legends, as well as a pretty strong slate coming next fall with Titanfall and Star Wars."
People shouldn't begin "prepping any Fortnite obituaries any time soon", as a dip in revenue doesn't particularly indicate declining base of users or less overall play, TechCrunch wrote in a report Monday evening. Fortnite's free-to-play model was never going to track traditional game numbers, given its reliance on in-game, digital purchases, the report said.
Electronic Arts' Apex Legends game is seen as the next formidable competitor to Fortnite as the company is said to be pursuing an entry into the Chinese gaming industry. The company's shares are trading 31 percent above the level where they bottomed out during last year's December market rout.