Portuguese Version of 'How Democracies Die' Becomes Amazon Bestseller in Brazil
(Bloomberg) -- Amid Brazil's highly divisive presidential election, one book has shot to the top of Amazon's local bestseller list: the Portuguese translation of "How Democracies Die."
The book, released in the country last month, lays out criteria to identify potential autocratic leaders as well as the need for institutional norms to safeguard democracies. One of the book's co-authors, Harvard University professor of government Steven Levitsky, said it's "unfortunately" selling pretty well in Brazil.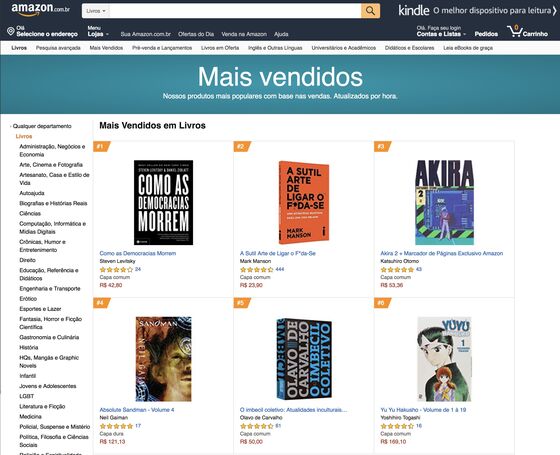 "The reason is that Brazilians are very worried about their democracy," Levitsky, a Latin America specialist who visited Brazil in August to discuss the electoral outlook, said by phone from Massachusetts. He says Brazilians are concerned with Jair Bolsonaro, a far-right former Army captain who waxes nostalgic for Brazil's military rule and has made comments supporting torture, and extrajudicial killings.
A video by Bolsonaro's son, Eduardo, criticizing the Supreme Court and citing people who want to shut it down at gunpoint, this weekend triggered outrage among the country's top judges. Eduardo via Twitter later apologized, saying he doesn't support closing the Supreme Court, and that his comments were exaggerated.
The book has been translated from English into about a dozen languages, and only had similar popularity in Germany, where for historical reasons people don't take democracy for granted, Levitsky said. Brazil returned to democracy in 1985 after two decades of military rule.
Bolsonaro's campaign did not respond when asked to comment for this story.