Duterte Threatens to End U.S. Military Pact Over Ally's Visa
Philippine President Rodrigo Duterte has once again threatened to end a military pact with the U.S., this time over a canceled American visa of a senator who used to lead his drug war.
Duterte said he's giving the U.S. government a month to "correct" Senator Ronald dela Rosa's visa status, or else he will terminate the two-decade-old Visiting Forces Agreement, which sets the terms of American soldiers' entry to the Philippines for military exercises.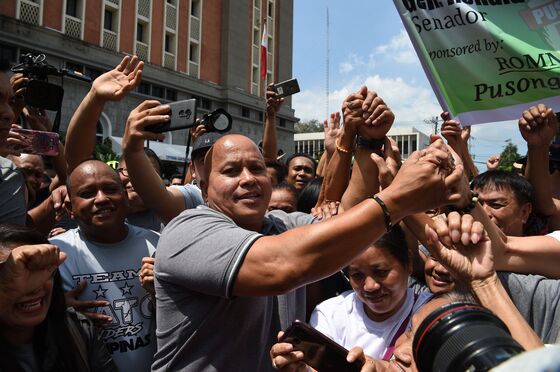 "They have to start talking to us because they have to go. They're rude," Duterte said, according to an emailed transcript of his speech delivered in the local language Thursday night.
Dela Rosa was quoted by local media on Wednesday as saying that his U.S. visa has been voided, and said this might be linked to his role in Duterte's drug war which has killed thousands.
Following Duterte's remarks, Foreign Affairs Secretary Teodoro Locsin said Friday on Twitter that his agency is corresponding with the Senate to start the process of terminating the military pact. Lawmakers including opposition Senator Franklin Drilon were quoted by local media as saying the president could end the treaty unilaterally, even without the concurrence of the Senate.
Since becoming president in 2016, Duterte has repeatedly threatened to "break up" the Southeast Asian nation's alliance with the U.S., while warming ties with China. Three years ago, he warned of canceling the same military agreement with the U.S. due to deferred aid.