Duterte Taps His UN Envoy as Next Philippines' Foreign Secretary
(Bloomberg) -- The Philippines' envoy to the United Nations will head the country's foreign affairs department as part of a revamp of President Rodrigo Duterte's cabinet ahead of the nation's 2019 midterm elections.
Duterte said on Friday that he offered the post to UN Ambassador Teodoro Locsin and the envoy said on his personal Twitter account that he had accepted.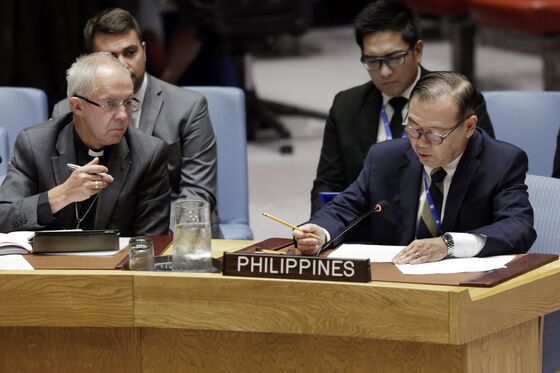 Foreign Affairs Secretary Alan Peter Cayetano will quit his post to run as representative in 2019. The deadline for candidacy in the elections is Oct. 17. A handful of cabinet officials are set to compete, with half the Senate posts, 297 House of Representatives seats and thousands of local government positions up for grabs.
The appointment of Locsin, a former politician and media executive, as top diplomat comes around two years since a pivot by Duterte to China, straining ties with the U.S.