These Are Dubai's Worst-Performing Stocks This Year
(Bloomberg) -- Contractors, retail operators, theme parks and financial-services companies are among those that exemplify some of the pillars of Dubai's economy. But they're also the biggest losers in its stock market this year.
Shares of Drake & Scull International PJSC, Marka PJSC, DXB Entertainments PJSC and Amlak Finance lost at least 47 percent so far in 2018, more than twice the average of the main local stock index, which is headed for its worst performance in a decade.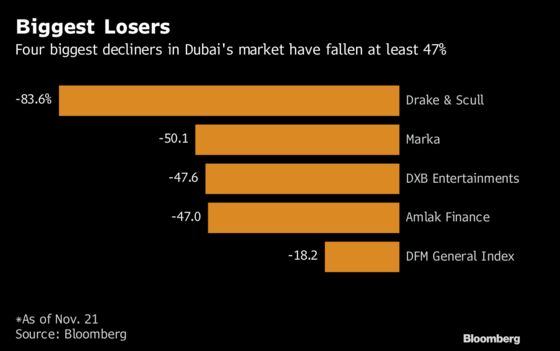 The variety of sectors in the group of laggards indicates that the concerns aren't necessarily tied to one specific industry. A slowdown in activity in the oil-rich region, an oversupply in Dubai's residential real-estate market and surging cost of living and doing business are some of the factors crippling hopes that a recovery is on the way.
The contracting firm that was involved in iconic projects such as the Louvre Museum in Abu Dhabi has stacked up losses in the past three years, and is going through a restructuring as the drop in oil prices forces property developers to defer payments and delay projects. Trading was suspended earlier this month pending approval of an overhaul plan.
Marka
The retail and dining operator has posted consecutive quarterly losses since 2014, the year of its initial public offering. It announced last month it is seeking a strategic partner as it asks shareholders to approve a capital reduction to extinguish accumulated losses of 450 million dirhams ($123 million). That should be followed by a capital increase. The shares have been suspended since April.
DXB Entertainments
The owner of Legoland and a Bollywood-inspired theme park posted its 20th consecutive quarterly loss as of the end of September. The company, which is currently constructing a Six Flags attraction in Dubai, is targeting higher footfall from international tourists after the number of visitors fell short of projections last year.
The Shariah-compliant financial services company specializes in real estate financing. Revenue fell 13 percent in the nine months to the end of September mainly due to the revaluation of investment properties amid a "softening real estate market," it said in a statement.