Dubai Overhauls Bourse to Catch Up With Regional Rivals
(Bloomberg) -- The new head of Dubai's financial market has overhauled the board of the local stock exchange, as part of a series of moves designed to attract listings to the city and catch up with regional rivals that have drawn billions of dollars over the past year.
Sheikh Maktoum bin Mohammed bin Rashid, also deputy ruler of the emirate, replaced five of seven members on the board of the Dubai stock exchange late on Wednesday. That came a day after he unveiled plans to list utility DEWA in what is likely to be the city's biggest share sale and one of 10 planned over the coming months.
The moves helped shore up the local bourse. Dubai's benchmark index rose as much as 1% on Thursday, taking weekly gains to 9% -- its best performance since 2014. Exchange operator DFM has surged 56% since the start of the week.
The changes will be enough to inject momentum into the stock market, Ajit Joshi, a fund manager at Shuaa Capital, said in an interview with Bloomberg Television on Thursday. "These are all great steps. We have seen how market-making has done wonders in the Abu Dhabi market and we are confident that that will reflect in the Dubai market as well."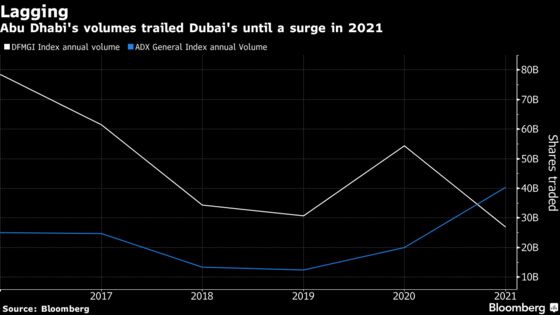 Once the United Arab Emirates' leading exchange by traded volume, Dubai's bourse is now second to Abu Dhabi, which has had three IPOs this year. In contrast, Dubai has seen one listing since 2017, and a string of delistings that have dented investor confidence. 
"The Dubai privatization program can be an important catalyst for the DFM," said Tarek Fadlallah, head of Nomura Asset Management's Middle East unit. "The execution (book-building, pricing, placement, liquidity) and governance framework will be critical given the poor IPO track record over recent years."
IPO candidates in Dubai will likely include companies owned by Investment Corp. of Dubai, the state-controlled firm with about $300 billion in assets, and Dubai Holding. These include Emirates Airline, Dubai Aerospace Enterprise, Dnata, Jumeirah Hotels & Resorts, Emirates National Oil Co., Meraas and Nakheel.
Still, even with the recent moves, there's a long way to go. Neighboring Abu Dhabi and Riyadh exchanges have hosted a flurry of IPOs that have raised billions of dollars, and they have a robust pipeline of future offerings. 
On Wednesday alone, four companies announced plans to list in Saudi Arabia. That included the kingdom's bourse, Tadawul, which could be one of the biggest in the exchange sector since Euronext NV's $1.2 billion listing.