Dubai Opens Up Concerts and Sports for Vaccinated Participants
Dubai began trialling the resumption of entertainment and sporting events for people who have been vaccinated as coronavirus cases drop in the United Arab Emirates.
For a month from Monday, permits will be given for community sports, concerts and social and institutional events as long as all present have had their jabs, the Dubai Media Office said.
Hotels can operate at full capacity and entertainment facilities had their limit raised to 70% with a maximum of 1,500 people for indoor events and 2,500 outdoor. Bars will reopen for those vaccinated and restaurant seating has been raised to 10 people per table, from six. Wedding events are allowed with attendance capped at 100.
The UAE has administered the AstraZeneca Plc, Pfizer Inc and Sinopharm vaccines in one of the world's fastest vaccination campaigns. It has given more than 11.4 million doses to a population of just under 10 million. Authorities reported 1,229 new cases of the virus on Monday, the lowest this year.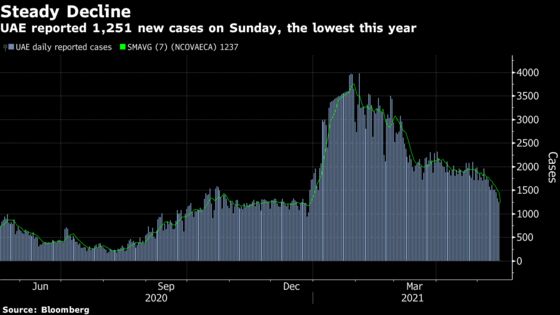 Other nations that kept cases low or rolled out swift vaccination campaigns are slowly emerging from the worst of the curbs.
More than 50,000 people attended a concert at New Zealand's largest sports stadium last month with no social-distancing or mask-wearing required, in what organizers said was the largest live music event since the start of the pandemic. Barcelona in March tested a concert format with 5,000 vaccinated fans attending with no social distancing. Masks were however mandatory.
Attendees at Dubai performances will have to observe "the latest precautionary measures" stipulated in the event's permit, the media office said, without giving more details.