Dubai Airports Sees Rise in Traffic After First-Half Drop
(Bloomberg) -- Dubai Airports reported a 41% drop in first-half passenger traffic, while expressing confidence that fewer travel restrictions and coming events will stoke rising activity through year-end.
The number of people passing through the world's largest airport by international traffic fell to 10.6 million, as the airport served 68% of its pre-pandemic destinations, the state-owned company said in a statement on Wednesday.
With Expo 2020 Dubai starting in October after a one-year delay and the Dubai Airshow set for November, "we are gearing up for a massive in-rush of visitors to the United Arab Emirates in the next couple of months," Chief Executive Officer Paul Griffiths said in an interview with Bloomberg TV.
"I think the rebound in traffic for the second half will be much greater than we've seen in the first half," he said, adding that the biggest demand will come from point-to-point traffic "particularly the U.K."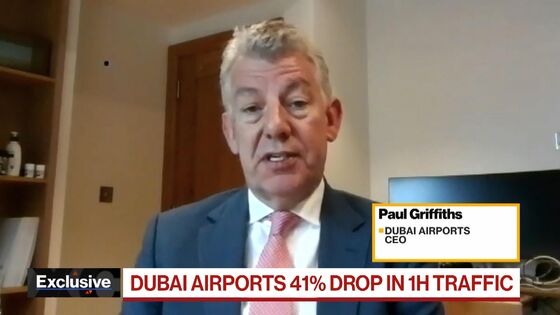 Britain last week moved the UAE to medium-risk status from high, removing a requirement for hotel quarantine on entry. The UAE separately lifted a ban on transit passengers from some countries in the Indian subcontinent, unlocking key destinations for the Middle East's trade and travel hub that relies heavily on connecting passengers around the globe.
Griffiths said the UAE is also "pushing" for the U.K. and other countries to accept overseas vaccines. Britain currently only recognizes jabs administrated in Europe and the United States.
Dubai Airports -- home to Emirates, the world's biggest long-haul airline before the pandemic -- saw some of its busiest weekends in July at the peak of the summer season and is expecting to handle more than 1 million passengers between Aug. 12-22 as summer holidays end.