Dry Decembers in Junk-Bond Market May Be Here to Stay
(Bloomberg) -- "It's been a long December and there's reason to believe, maybe this year will be better than the last," the Counting Crows once sang. For junk-bond investors eyeing a month of no new issuance for the first time in at least a decade, the feeling might be familiar.
Borrowers shied away from selling fresh debt in a month that saw risk premiums on high-yield bonds touch the highest level in about two years as concerns over global growth and tightening financial conditions sparked a widespread selloff in risk assets.
But investors hoping 'Dry December' was a one-off might be disappointed as Citigroup Inc. analysts point out that the month has featured a paucity of bond sales for some time. The silver lining? Last month's complete lack of issuance didn't indicate disaster for the junk-bond market.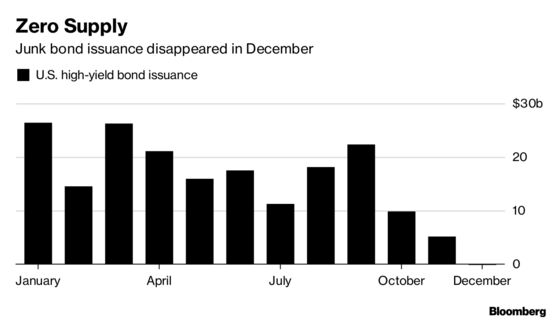 In fact, closed primary markets in December are better explained by technicals than sentiment, according to analysts led by Michael Anderson and Philip Dobrinov.
"The lack of supply was not that surprising," they write. "The December 'Doughnut,' while optically intriguing, was the result of long-running high-yield seasonal and calendar effects, rather than concerning cracks in the market."
They point out that December has since 2002 typically been the third-slowest for new bond sales, pipped only by the traditionally slow summer months of July and August. Meanwhile their 'issuance pulse' measure -- which gauges momentum (or lack thereof) in new sales of bonds -- shows the trend toward a dry December has been increasing in recent years.
Opportunistic issuers have become used to waiting for a market storm to pass before approaching the market, according to Citigroup. Targa Resources broke a six-week hiatus in U.S. junk bond sales on Jan. 11. Yesterday's trio of deals, including one from Energizer Holdings Inc., showed the primary market for risky debt roaring back to life.
"As December has become a less reliable month for positive returns, we could see future years ending on a quiet issuance note," the analysts write.