Big Pharma Is Caught Between Wall Street and Trump on Drug Prices
(Bloomberg) -- Washington wants drug prices to fall. Wall Street wants stock prices to rise. For some of the world's largest pharmaceutical companies, pleasing both sides could be a problem.
Last year, the industry promised restraint after President Donald Trump took aim at rising pharmaceutical costs. On Jan. 1, drugmakers returned to their annual practice of regular increases, boosting prices for dozens of treatments, from hot-selling arthritis therapies to painkillers at the center of the U.S. opioid epidemic.
Hundreds of drugs saw price increases from Dec. 31 to Jan. 2, according to Elsevier, a health-information analytics company. The average increase was 6.7 percent, according to a Bloomberg analysis of the data.
Many of the increases were lower than past hikes, a reflection of ongoing pressure from the White House, Congress and health-insurance companies. That pressure could make it harder for drugmakers to keep aging blockbusters growing while developing new products.
"What investors don't yet understand is how reliant companies are on price increases for revenue growth," said Geoffrey Porges, an analyst at Leerink Partners who wrote a report in October looking at how much price increases have propped up drugmakers' results.
Overall, Porges found that nearly two-thirds of the sales growth from the 45 bestselling drugs in the U.S. was attributable to price increases between 2014 and 2017.
A smaller window to raise prices could lead drugmakers to look for other ways to generate growth, including M&A deals. On Thursday, Celgene Corp., which has steadily increased the price of blockbuster blood-cancer treatment Revlimid, agreed to be bought by Bristol-Myers Squibb Co. for $74 billion. Bristol increased prices for several drugs this week, including arthritis treatment Orencia and leukemia therapy Sprycel.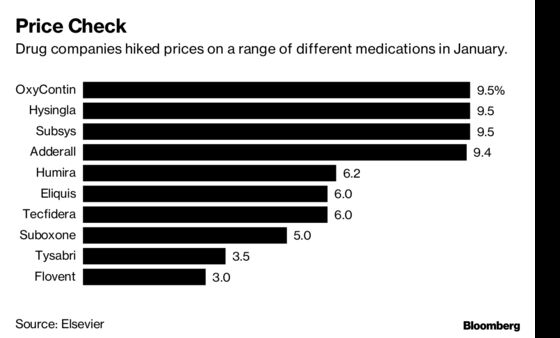 A case in point is Biogen Inc., a Cambridge, Massachusetts-based biotechnology company whose multiple-sclerosis drug Tysabri is one of the leading treatments for the disease. It has generated more than $1 billion in annual sales since 2011, but recently all of that growth has come from price increases, not from more patients taking the drug, according to Porges.
Biogen raised the price of Tysabri on Jan. 1. by 3.5 percent, in line with the increase it took last year, to $6,396.30 for the most common dose. It also boosted prices for three other multiple-sclerosis drugs, including Tecfidera, which had the largest increase of the group at 6 percent.
In an emailed statement, Biogen spokesman David Caouette said the net price increase of the four drugs was below 2 percent and short of the overall rate of inflation, which rose 2.2 percent in November in annual terms, according to the Labor Department's consumer-price index.
"We are committed to providing patients with affordable access to our medicines; we must also preserve our ability to invest in the next generation of therapies and cures for MS and other neurological diseases," Caouette said. He declined to comment on Leerink's findings.
Biogen isn't alone. AbbVie Inc. raised the price of Humira by 6.2 percent to $5,174.09 on Jan. 1 for the most commonly prescribed dosage, according to Elsevier. The world's bestselling drug, Humira is expected to bring in $19.6 billion in sales over the next 12 months. The Leerink analysis found that about 40 percent of the drug's revenue growth since 2014 was due to price hikes.
"AbbVie carefully evaluates the pricing of its medicines," said spokeswoman Adelle Infante in a statement, adding that for 2019 the company is committed to no more than one single-digit percentage price increase, "which will be further offset by rebates and discounts."
Drugmakers facing legal problems linked to the U.S. opioid epidemic also boosted the prices of their medications in recent days. Closely held Purdue Pharma Inc., which produces the painkiller Oxycontin, and Insys Therapeutics Inc., maker of a controversial fentanyl painkiller for cancer patients, each increased the wholesale cost of their main drugs by 9.5 percent.
Representatives for Purdue and Insys didn't return requests for comment.
Many opioid manufacturers are paying costly fees to cover investigation, defense, settlement or appeal-related expenses. Insys founder and former chief executive John Kapoor is scheduled to face criminal trial in Boston federal court along with other executives this month. He has plead not guilty to bribing doctors to prescribe Subsys.
Subsys accounts for nearly all of the company's revenue, which has fallen 80 percent from its peak in 2015. Kapoor's defense alone has cost the company more than $28 million in indemnification fees in the 12 months through Sept. 30, according to a company filing with the Securities and Exchange Commission.
Pharmaceutical stocks were relative standouts in what was a generally terrible year for the market last year, with heavyweights such as Pfizer Inc. and Merck & Co. among the strongest gainers.
Pfizer was the most prominent company caught up in the battle over drug prices in 2018. In July, Trump singled it out for raising prices on more than 40 drugs, causing the company to hold off. It then said in November it would resume raising prices in mid-January, though by less than earlier planned.
A representative for Pfizer declined to comment.
"The political noise has put a lot of pressure on any individual price hike," especially those that exceed 10 percent, said Brian Rye, a senior government analyst at Bloomberg Intelligence.
Despite worry that the mood in Washington could translate into big changes to old practices, drugmakers are being encouraged to ride out the political blowback from raising prices if it helps them meet their financial goals.
"We've been talking to people on the policy side that are working with companies," said Christopher Raymond, senior biotechnology analyst at Piper Jaffray & Co. "Their advice has been that you might get a tweet here and there but if you can handle the heat, go ahead and do it."