Drop in Italian Confidence Measures May Signal Longer Recession
(Bloomberg) -- Italian business and economic confidence fell, signaling a possible continuation of the recession that started late last year.
Italy's coalition leaders have been rallying around their message that growth will pick up, defying projections the economy will have trouble expanding significantly this year. Premier Giuseppe Conte said this week he foresees growth "at least in the second half."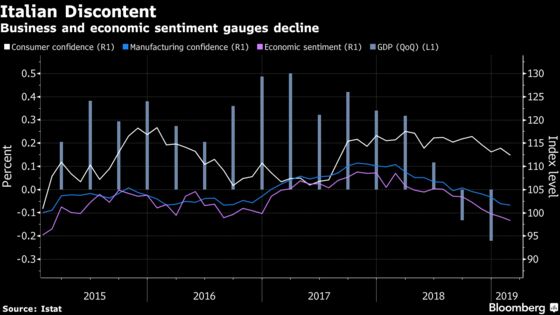 The economic sentiment indicator fell in February to 98.3 from a revised 99.1 the month before, statistics agency Istat said Wednesday in Rome, for the lowest in four years. Istat has said there is a proven correlation between economic sentiment and performance.
In the same month, manufacturing confidence and consumer confidence also decreased, with the business gauge at the lowest since August 2016. Retail confidence was the only component that increased.
Istat will release the growth figures for the full year 2018 on Friday, and estimates are the expansion was half of what it was the preceding year.
Premier Conte blames the global slowdown for Italy's economic troubles, but that tells only part of the story.
Fitch Ratings warned last week that an extremely high level of general government debt poses a risk.
Widely diverging views on 2019 growth may be leading to confusion.
Populist leaders are already gearing up for European Parliament elections in May, adopting a hardline stance on key issues to boost their voter appeal and divert attention from the economy.
Government will need to rebuild confidence to attract more investors.
Istat's confidence survey was conducted in the first half of this month.
Confidence gauges for the full 19-nation euro area are scheduled to be released at 11 a.m. in Luxembourg.
Italy has suffered from years of near-stagnation and the European Commission says it expects the country to have the slowest growth rate in the euro region this year and next.