Drive-Through Virus Testing So Popular They Had to Shut it Down
(Bloomberg) -- Colorado's new drive-through coronavirus-testing station in Denver made its debut Wednesday and was quickly overwhelmed. At one point Thursday, the line of cars with passengers waiting to be swabbed was almost four hours long, until the state cut off the service for the day.

Drive-through checks for Covid-19, with health workers in protective gear swabbing noses through car windows, was part of South Korea's largely successful strategy for containing the virus: The country tested more than 200,000 in a matter of weeks, a stark contrast to the U.S., where testing has proceeded at a crawl.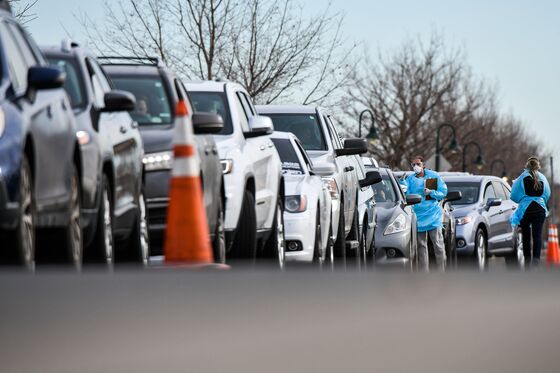 The nation's testing is "failing -- let's admit it," National Institute of Allergy and Infectious Diseases Anthony Fauci told Congress Thursday.
This week, a handful of states are deploying their own drive-through operations. New York opened its first Friday in New Rochelle, the epicenter of its outbreak. New Hampshire set up an operation this week.
At the same time, hospitals and clinics in some states have begun offering free drive-through testing. The idea is to quickly grasp how many people are sick, and to keep the infected from transmitting the virus in waiting rooms.
In announcing Colorado's first testing station, Department of Public Health and Environment Director Jill Hunsaker Ryan said more testing is among the most effective measures to slow the virus, because "those who test positive can be isolated from the general population as we continue to stress the need for personal action," such as staying home when sick and washing hands.
The Mayo Clinic in Rochester, Minnesota, and the M Health Fairview system in Minneapolis both launched free drive-through testing Thursday. UW Medicine in Seattle has been using it for staff and University of Washington faculty since March 6, and is planning to expand it to patients.
A hospital in the Chicago suburb of Barrington is setting up operations in its emergency room driveway. Dallas-based Tenet Healthcare chain is considering testing stations in some of its hospital parking lots, according to the Modern Healthcare journal.
Officials from the Centers for Medicare and Medicaid Services and the Department of Health and Human Services met Friday with executives from Walmart, Target, CVS, Walgreens, Laboratory Corp. of America Holdings, Quest Diagnostics and Roche Diagnostics to discuss developing a web portal that would direct people to such testing stations, according to people familiar with the plan. The people asked not to be named discussing internal deliberations.

The drive-through operations typically require people to either participate in phone or online pre-screening or be referred by a physician: The Mayo Clinic tells people where the testing is being done only after determining that someone in fact should get a test. Colorado requires people to bring a note from a doctor. Those tested then are advised to quarantine themselves while waiting for results.

Colorado warned drivers that they couldn't exit their cars while in line, and advised them to bring food and water in anticipation of a wait.
The length of Thursday's line was a surprise. Even with prescreening and the warning, waits stretched to nearly four hours before the state shut it down. The health department announced a new protocol the next day: The station in Denver's Lowry neighborhood would take only the first 100 to 150 cars, and direct cars after that to seek out a private provider.

The state closed the station early Friday because of cold weather that could compromise health workers' protective gear. It was poised to open again on Saturday.

"There's no point in getting angry," Nicole Fasano told a Denver television station Thursday after waiting two hours for a drive-up test for her toddler.

She said she planned to just "go home and quarantine ourselves and take care of the little guy."