Draghi Wins Support for His Pandemic Fight, Economy Priorities
(Bloomberg) -- Italian Prime Minister Mario Draghi is set to focus on the country's economic reboot and its fight against the coronavirus pandemic after winning cross-party support for his government's priorities in parliament.
Draghi secured a broad majority in a Lower House confidence vote Thursday despite the defection of some lawmakers from the Five Star Movement, the biggest party in parliament, a similar result to the same vote in the Senate on Wednesday.
Addressing lawmakers before the vote, he invited them to look ahead as a way to collectively overcome the economic and health crisis.
"That will be the core of my government's action," he said.
In its initial address as premier Wednesday, Draghi outlined his plan to speed up Italy's vaccination campaign and commit the country to playing a role in pushing for European Union integration. The ex-head of the European Central Bank was appointed as Italy's prime minister earlier this month.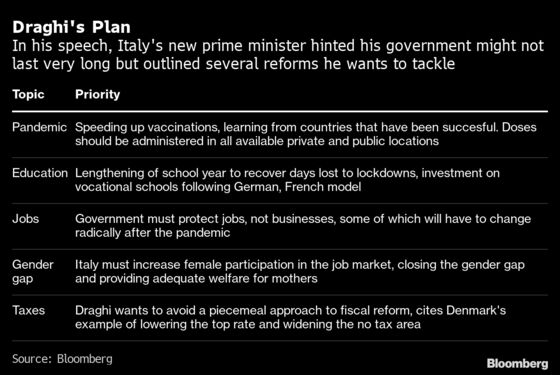 Draghi has signaled that his government will be firmly pro-European and Atlanticist, and he has called for an ever-more integrated EU with a common budget capable of supporting countries in periods of recession.
The prime minister on Friday will take part in his first G-7 virtual meeting, which will also be the first attended by new U.S. President Joe Biden.